by sarah —
last modified

23/06/2020 01:28 PM
In Focus: Dance For Parkinson's
by sarah —
last modified

23/06/2020 01:28 PM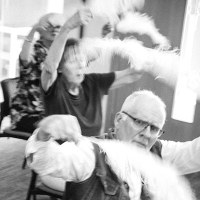 Dance for Parkinsons Trinity Community Arts
We're really missing our regular community events, so while the building is closed we have asked some of the groups and classes to tell us about their activities, who takes part in their classes and some of the great things they have achieved so far.
Rachel James from The Original Spinners kindly sent us a lovely little video about Dance For Parkinson's.
The class is for people with Parkinson's, partners and carers and is all about creativity, fun, and an excellent playlist.
Rachel shares some of their highlights from gentle exercises to performances at Bristol Harbour Festival.
You can see more #TrinityPresents videos alongside activities to take part in, live streams and much more by making sure you like and follow our page.
This is brought to you by Trinity Presents. Click here to see more arts, community, well-being and education content or follow us on Facebook, Instagram and Twitter.
Trinity are working with external artists, partners and organisations as part of Trinity Presents Online to provide exciting content, relevant to Trinity's diverse audiences and in line with our Equal Opportunities and Free Speech Policies. Click here for more information about our Policies. While we endeavour to ensure content we share is relevant and appropriate, Trinity is not responsible for individual content created by third parties.