by sarah —
last modified

30/07/2021 08:36 AM
Fast Fashion, #Resist Shorts and Environmental Talks
by sarah —
last modified

30/07/2021 08:36 AM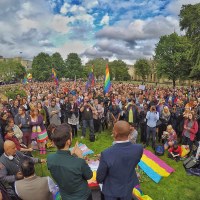 Pride Talk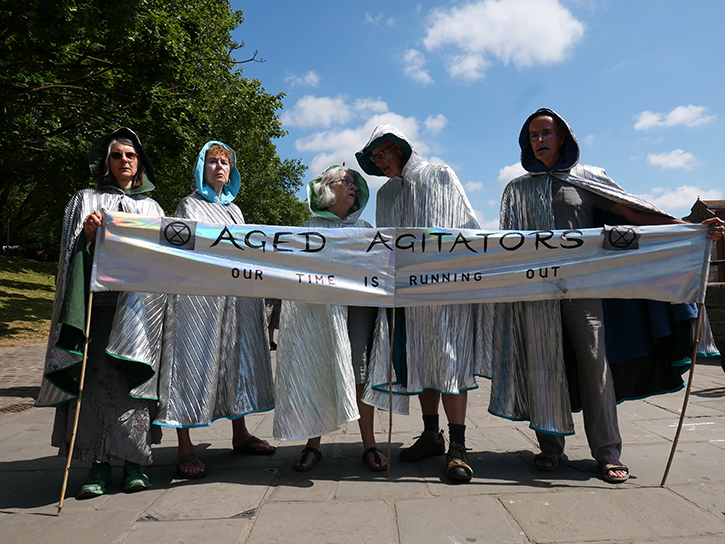 Photo credit: Colin Moody
Art of Resistance is a two-year project exploring the role that creativity plays in resistance movements. Through the lens of key protest movements in Bristol: Women's Equality & The Suffragettes, Workers' Risings & Bristol Riots, and Anti-Racism & Anti-Fascism, the project is documenting and exploring Bristol as a city where people feel empowered to make change.
Throughout this Summer (July – Aug 2021) there are opportunities to find out more about creative acts of resistance through a programme of talks, workshops, and events. Featuring the likes of Lowkey, Kiki, Queer Vision and Julie Boston – all key players driving to change the world around them for the better.
Banners have, literally, been at the forefront of Trade Union protest and a way in which women in particular have contributed to Trade Union activism. Imagine from Reclaim the Night to Black Lives Matter.  Join textile artists Ruth Ramsay and others to collaborate in the creation of a 'Banner For Bristol' that will capture the spirit of Bristol (05 Aug).
Short films are often a stepping stone for film-makers, lending themselves to a variety of innovative approaches to storytelling and platforming. For one night only, Kiki Bristol join forces with Queer Vision for an evening screening new QTIPOC film shorts (15 Jul).
Environmental campaigning has been at the forefront of the protest movements in Bristol. From Grassroots campaigning to Save The M32 Maples in St Paul's to XR's takeover of the City Centre. Julie Boston has been at the forefront of campaigning on environmental issues in Bristol for decades – join her at Trinity for an evening's discussion (22 Jul).
British rapper and activist, Lowkey is one of the most evocative, articulate, and urgent voices of our time. Since launching his rap career in the early 00s, Lowkey has been a consistent and powerful voice against Islamophobia, neo-imperialism, and the plight of Palestine. In an evening of conversation, Lowkey shares his inspirations, how he uses his art as a form of activism and his continued commitment to social justice (28 Sep).
Fast fashion has a detrimental impact on the environment. In a one-off workshop join Sophie & Frances to find out more about every-day-resistance through the simple act of up-cycling your clothes (12 Aug).
From their use in the military to the synonymous connection to the punk movement in the 70s/80s, patches can be a form of group identification, a creative symbol of counterculture, or a means of showing support for a cause. Find out more about the history of patches through creating your own in a one-off workshop (18 Aug).
Sign up by clicking on the links above, or find out more about the project here. Don't want to miss out? Keep up to date with events and news at Trinity by signing up to our mailing list.