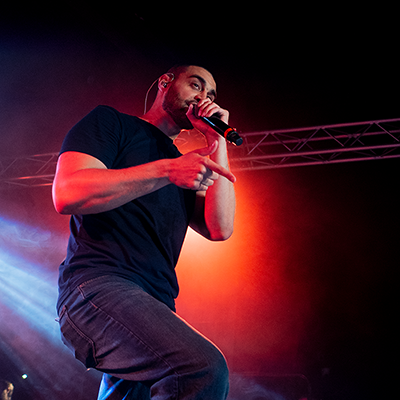 In Conversation with: Lowkey - SOLD OUT
British rapper, and activist, Lowkey reveals the mind behind the mic
In flow or in prose, Lowkey is one of the most evocative, articulate, hip hop artists of our time. In this event, as part of Trinity's Art Of Resistance Project, Lowkey shares his inspirations; why he uses his art as a form of activism; and why he remains committed to social justice.
Bristol's acclaimed spoken word night, Raise The Bar will host a pre-talk open mic followed by a DJ set from DJ Adibah (Booty Bass).
6pm - Doors Open
6:15pm - 6:45pm - Open Mic
7pm - In Conversation with: Lowkey
8pm - DJ Adibah (Booty Bass)
Tickets are priced at £5 as this event is supported by the Heritage Lottery Fund. if you would like to request a bursary tickets please contact us on info@trinitybristol.org.uk.
Please note that the original date for this show was 08 Aug, tickets are still valid for the new date.
About Lowkey
Since launching his rap career in the early 00s, Lowkey has been a consistent and powerful voice against Islamophobia, neo-imperialism, and the plight of Palestine.
In his hip hop career, Lowkey has worked with Immortal Technique, Wretch 32, Akala, Dead Prez, and Outlawz.
Sign Up For the Open Mic
Signing up for the open mic will be on a first come first served basis. Each open mic slot will be three minutes maximum and you will be given a free ticket to come along to the event. Please note that only a microphone can be provided in terms of technical support.
To sign up please contact jo@trinitybristol.org.uk by 20 Sep
About Art of Resistance
Art of Resistance is a two-year, National Heritage Lottery Funded project charting 100 years of protest in Bristol.
Please read our COVID-19 Safety Policy for information on attending events during this time. Please note, proof a negative PCR/lateral flow test is required for entry.