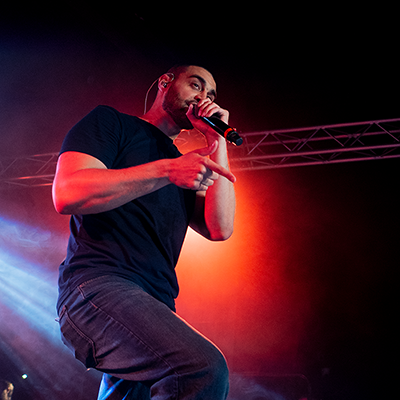 In Conversation with: Lowkey
British rapper and activist, Lowkey, leads an inspirational conversation
Lowkey is a hip hop artist and political campaigner. In flow or in prose, he is one of the most evocative, articulate, and urgent voices of our time. Join Lowkey for an evening's conversation and find out what his inspirations are, how he uses his art as a form of activism, and his continued commitment to social justice.
Tickets are priced at £5 as this event is supported by the Heritage Lottery Fund. However we appreciate that this could be a barrier to accessing this event.  If this is the case, please contact us on info@trinitybristol.org.uk.
About Lowkey
"If they don't let us dream, we wont let them sleep." Lowkey, Fire in the Booth, 1Xtra
Since launching his rap career in the early 00s, Lowkey has been a consistent and powerful voice against Islamophobia, neo-imperialism, and the plight of Palestine.
In his hip hop career, Lowkey has worked with Immortal Technique, Wretch 32, Akala, Dead Prez, and Outlawz. He is part of the super group Mongrel, alongside members of the Arctic Monkeys, Babyshambles, and Reverend And The Makers. Lowkey's critically acclaimed music has received millions of streams on Spotify, sold over 25k albums digitally, and garnered over 45 million YouTube views.
In Conversation with: is a series of talks with select leading figures who combine art with activism and use their platform to respond to social change programmed as part of Art of Resistance. Art of Resistance is a two-year, National Heritage Lottery Funded project charting 100 years of protest in Bristol.