Main Hall
Great for live music, parties, public meetings, markets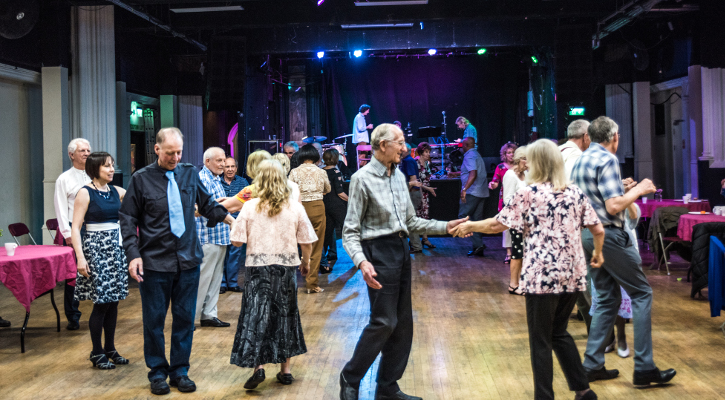 Dancers take the floor in the main hall during a day time tea and dance event (photo credit @ Khali Ackford)
Just minutes walk from the city centre, our main hall offers a generous sized sprung-floor, fully licensed bar and kitchen.
As one of Bristol's main live music venues, this space is capable of being transformed to suit your needs, with in-house sound system, lighting and additional technical capabilities available.
Dimensions
18.2m w x 20.2m l x 3.9m h
Stage 7.3m w x 6.2m l x 2.9m h (1m off floor)
Capacity: 600 standing / 200 seated
The Trinity Centre is used by the community for private parties, meetings and functions as well as public events. There are no restrictions as to who can book or use the facility and tiered hire rates are available to charities, voluntary groups and local residents to create more community activities.
Unless otherwise agreed in writing, a 50% deposit is required to confirm your booking, with the balance due by the date indicated on your invoice and prior to your event taking place. By making payment you are accepting our Terms and Conditions of hire.