by sarah —
last modified

17/07/2020 11:08 AM
Trinity Presents: Day of Dance
by sarah —
last modified

17/07/2020 11:08 AM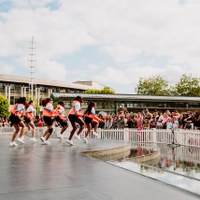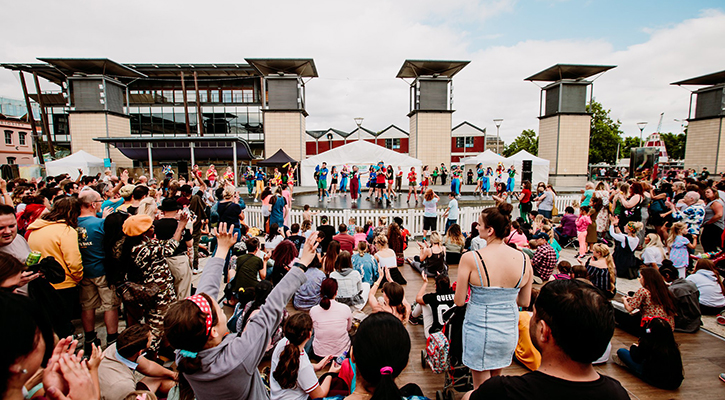 Trinity Presents: Bristol Dances Stage at Bristol Harbour Festival 2019 Photo @KoLAB Studios
We are proud to be the programmers of the Bristol Dance's stage at the annual Bristol Harbour Festival. This year as we can't celebrate and dance with you in person, we will be hosting a special day of live-streaming highlighting some of the UK's most exciting dance and circus artists with premiere streams excerpts from shows and especially curated short performances.
Get involved on the day by tuning in and sharing your best memories of #Harbour Festival on social media.
Balance of the Cosmos - 18th July - 12:00 noon
We have teamed up with leading Circus Company Cirque Bijou, who programme the Circus area at HarbourFestival, to bring you a premier streaming of their outdoor spectacle Balance of the Cosmos. The show featured over 80 artists and was a true multi cultural collaboration, celebrating artistry from the UK, France, USA, and Taiwan. It told a simple story of the need to to balance our desire to live interesting and exciting lives with our respect for the environment.
Balance of the cosmos will be streamed on Facebook and there will be opportunities to talk with the creative team and artists behind the show in the comments section.
Vogue Workshop - 18th July - 3pm
Don your sparkles and warm up those voguing muscles and start your afternoon right with Darren Pritchard Dance's Vogue workshop! Darren will take you through a gentle warm up followed by a beginners workshop on the five elements of Vogue Femme including Hand Performance, Catwalk, Spins and Dips, Floor Performance, Duck Walk.
Celebrating Dance - 18th July - 7pm
Join us for this special one off livestream, celebrating dance artists from around the UK. With short performances from amazing companies  Ella Mesma Company and Gerry's Attic and excerpts of shows from Toussaint To Move and Uchenna Dance
This is brought to you by Trinity Presents. Click here to see more arts, community, well-being and education content or follow us on Facebook, Instagram and Twitter.
Trinity are working with external artists, partners and organisations as part of Trinity Presents Online to provide exciting content, relevant to Trinity's diverse audiences and in line with our Equal Opportunities and Free Speech Policies. Click here for more information about our Policies. While we endeavour to ensure content we share is relevant and appropriate, Trinity is not responsible for individual content created by third parties.