What is Rhythm of The Night?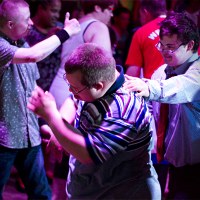 We asked our friends over at Misfits to let you know all about their Rhythm of The Night events.
We usually hold regular Rhythm Of The Night events here at Trinity, and are really missing the great tunes and vibes during lockdown. We can't wait to get them back in the future
For more information about Rhythm Of The Night and to hear some brilliant playlists, check out Misfits Theatre Company.
This is brought to you by Trinity Presents. Click here to see more arts, community, well-being and education content or follow us on Facebook, Instagram and Twitter.
Trinity are working with external artists, partners and organisations as part of Trinity Presents Online to provide exciting content, relevant to Trinity's diverse audiences and in line with our Equal Opportunities and Free Speech Policies. Click here for more information about our Policies. While we endeavour to ensure content we share is relevant and appropriate, Trinity is not responsible for individual content created by third parties.