Balance of the Cosmos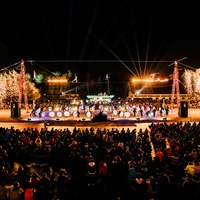 We teamed up with leading Circus Company, Cirque Bijou, to bring you a premier streaming of their outdoor spectacle Balance of the Cosmos. This show was originally created for the Taiwan Lantern Festival 2020 and was attended by over 160,000 audience members across 16 shows.
Balance of the Cosmos streamed on Facebook, Sat 18 July and now you can watch it right here. The show started a special day of live-streaming, celebrating Bristol Harbour Festival, and highlighting some of the UK's most exciting dance and circus artists, with streams, excerpts from shows and especially curated short performances.
Make sure you head over to Facebook and like Trinity and Cirque Bjiou.
About the show
Balance of the Cosmos was created for the Taiwan Lantern Festival, held in the City of Taichung in February this year through a UK / Taiwan co-production.
The show featured over 80 artists and was a true multi-cultural collaboration, celebrating artistry from the UK, France, USA, and Taiwan. It tells a simple story of the need to balance our desire to live interesting and exciting lives with our respect for the environment.
The show was performed by high wire and FireWire artist Jade Kindar-Martin, high wire artist Chris Bullzini, and aerialists Karine Kindar-Martin and Abby Evans. The music was performed by Michael Fergie, Aelfwyn Shipton, Muniyu Saliljan and Lady Nade. Balance of the Cosmos was devised, choreographed and created by the cast and creative team; written and directed by Billy Alwen and produced by Cirque Bijou, in collaboration with Yangling Company. Choreography by Yu yen Fang and Grace Willow, with music composition by Martha Tilston and Diana Yukawa.
Photo Credit: Lin Chunyung. Film Credit: Cultural Affairs Bureau of Taichung City Government
This is brought to you by Trinity Presents. Click here to see more arts, community, well-being and education content or follow us on Facebook, Instagram and Twitter.
Trinity are working with external artists, partners and organisations as part of Trinity Presents Online to provide exciting content, relevant to Trinity's diverse audiences and in line with our Equal Opportunities and Free Speech Policies. Click here for more information about our Policies. While we endeavour to ensure content we share is relevant and appropriate, Trinity is not responsible for individual content created by third parties.