Dizraeli: The Unmaster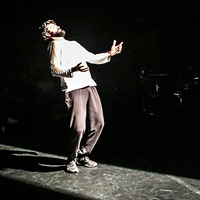 Exploring madness, masculinity and how to recover from both. The Unmaster is in a genre of its own: an honest gig; a dance; an unflinching poem; a story of a mental breakdown assembled from Dizraeli's own diary entries and frightened scribbles. Featuring the new Dizraeli band, playing music from Dizraeli's album of the same name. Visuals from Chris Allen of The Light Surgeons (The Orb; Splice Festival) and direction from Stef O'Driscoll (Nabokov Theatre) and Nina Santes (Hymene Hymne; La Fronde).
This is brought to you by Trinity Presents. Click here to see more arts, community, well-being and education content or follow us on Facebook, Instagram and Twitter.
Trinity are working with external artists, partners and organisations as part of Trinity Presents Online to provide exciting content, relevant to Trinity's diverse audiences and in line with our Equal Opportunities and Free Speech Policies. Click here for more information about our Policies. While we endeavour to ensure content we share is relevant and appropriate, Trinity is not responsible for individual content created by third parties.