by sarahb —
last modified

12/02/2021 11:42 AM
Roxana Vilk
by sarahb —
last modified

12/02/2021 11:42 AM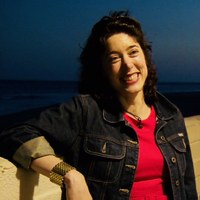 Roxana Vilk performing at TradFest photo credit Colin Hattersley
Lullabies workshop at Easton Community Centre. Photo @ Alexa Ledecky
Roxana is a multi-award winning Iranian/British multi-disciplinary artist working with music, storytelling, film and live performance in a participatory context for over 20 years. Core to Roxana's work is a desire to connect with the human stories that unite us, using a multi art approach to tackle issues of racism, discrimination and belonging.
In 2018 Roxana joined the Trinity team developing her project, Lullabies, during her IGNiTE residency. Lullabies, was inspired by Roxana signing traditional Iranian lullabies to her children at night. Here she began to imagine how many others might be singing songs in different languages to their children and the stories behind them.
During her pilot project Roxana worked with local communities and schools to collect lullabies from families. She recorded interviews and songs from communities across Bristol, including Somali, Kurdish, Irish, Israeli, Iranian, Hungarian, German and Afro-Cuban songs.
In 2020 the project was selected to be part of Here and Now, a national project celebrating of 25 years of National Lottery Funding and showcasing everyday culture.
With the support of Trinity Roxana is continuing to develop Lullabies and in 2021 and will deliver online Zoom workshops. There is an open call for the public to submit their Lullabies and there are a series of adaptive podcasts with BBC R+D.