by sarahb —
last modified

12/09/2018 08:40 AM
Introducing our IGNiTE Artists in Residence 2018
by sarahb —
last modified

12/09/2018 08:40 AM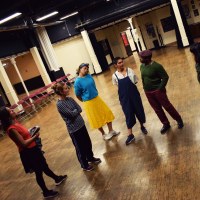 IGNiTE residents gather in the main hall
IGNiTE resident Roxana Vilk shares her project during the induction day Sep 2018 photo @ Alexa Ledecky
"My hopes for the residency are that the idea will grow in a very collaborative, beautiful way into a piece that reflects the incredible diverse communities around us here and the heartfelt stories that bind us together as humans." IGNiTE resident
We're delighted to introduce the 2018 cohort of IGNiTE artists in residence. Over the next six months, these four Bristol based artists will develop exciting new work in collaboration with communities at Trinity.
Roxana Vilk will invite people to collectively celebrate heritage though lullabies sung at night in her project 'Across Our City At Night'.
Ania Varez's invites people to experience emotional pain as a collective and across borders in her project 'Guayabo' (or, Grief Party).
Vicki Hearne's 'Practically Perfect' is an intergenerational project exploring the common pressures felt by generations of women.
Viki Browne's 'Hyper Fem' explores gender empowerment and the performance of femininity in a male dominated drag world.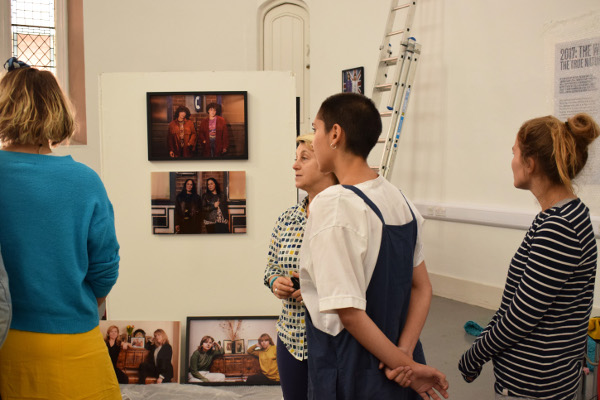 Photographer Anita Corbin shares some thoughts with the 2018 cohort during their induction day photo @ Alexa Ledecky
Each artist has been chosen because their practice puts co-creation with communities at its core, aiming to connect to new audiences and sparking debate. Their projects tackle big issues to do with identity and our place in the world, exploring themes such as migration and gender empowerment.
Our  residency programme is now in its third year and aims to increase the diversity and representation of art, artists and audiences, whilst offering artists an opportunity to test out new ideas, reflect on their practice and make new connections.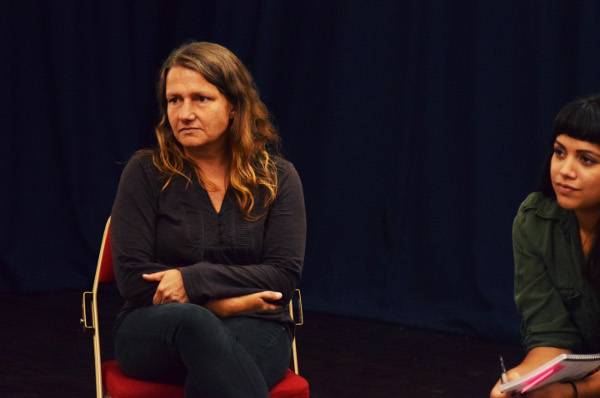 Julia Thornycroft is a member of the IGNiTE programming forum, who collaboratively help select this years residents. Photo @ Alexa Ledecky
Whether artists are at the very beginning of an idea or taking a project they have already developed in a new direction, we encourage artists to use their time with us to take risks and experiment – all within a supportive environment.  All four artists will receive professional support, the use of Trinity's performance space the Fyfe Hall, and a bursary. You can find out more about the featured artists and their projects by visiting their profile pages here.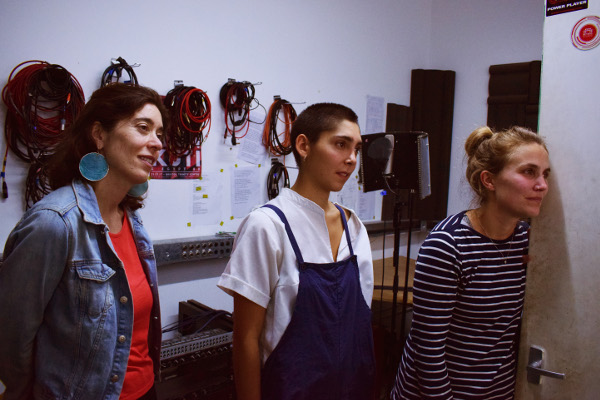 Roxana, Ania and Vicky in the studio listening to music tutor Dave as he explained more about our Youth Music project, Making Tracks. Photo @ Alexa Ledecky
Through the year we will be blogging about Roxana, Ania, Vicki and Viki's journeys and letting you know about sharing any opportunities for the public to take part. Sign up to our mailing list to keep updated.
We wish the artists all the luck and cannot wait to see their projects take shape, find out more about IGNiTE here, including our Autumn Season of shows.
About IGNiTE
IGNiTE is Trinity's in house programme of world-class, innovative theatre and dance about issues that matter to people now, starting conversations and sparking debate. IGNiTE is supported using public funding by Bristol City Council and by the National Lottery through Arts Council England