by emma —
last modified

16/10/2018 01:25 PM
Gig Hire: FAQs
by emma —
last modified

16/10/2018 01:25 PM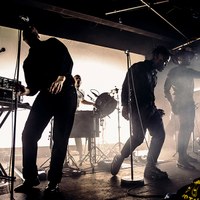 Young Fathers play Trinity in 2018 photo @ Dominika Scheibinger
Do you programme your own gigs? Trinity is a 650 capacity venue and most music events are currently organised by promoters or individuals who hire the venue and run their own gigs/clubs. We programme a number of live music events including Garden Party and Fireworks. We also programme theatre and performance as part of the IGNiTE project.
How do I get a gig at Trinity? Much of Trinity's live music programme is organised by regional and national promoters. If you would like to perform as a support act, please email to info@3ca.org.uk with the gig you're interested in and a link to your music and we can forward onto the relevant promoter.
Do you give the venue for free for benefit gigs/fundraisers? Trinity is a registered charity and our live-music progamme provides a way of us generating vital revenue to fund our charitable activities. We cannot provide free use of Trinity for benefit gigs as there are associated costs that have to be covered (security, staff, technical costs). See Benefit Gigs: Tips for more info.
Can we have the bar revenue? Trinity receives limited public funding and we use our bar revenue to subsidise our own charitable activities, as well as paying for the running costs and ongoing repair of the Trinity Centre. For live-music events, including fundraisers, Trinity retains all bar revenue and you, the promoter, retain all door revenue - this is the incentive to sell as many tickets as possible in order to ensure your event is a success.
I know someone who's SIA - can we use them for security? We want to ensure that our venue is safe and that our licensing conditions are upheld. We have a regular security team who we use who know the venue and help us to deliver safe events. If you would like to discuss security arrangements further, please contact your bookings administrator.
Can we sell food? We can allow sale of food as part of live events and have a small kitchen, suitable for reheating of food. Food providers have to hold appropriate certificates and insurance and present evidence of how food is prepared and stored. If you would like to sell food as part of your event please discuss this in advance with your bookings administrator. Please be advised, use of kitchen may incur an additional cleaning deposit.
Can we use the garden and/or upstairs hall, as well as the main hall? Our upstairs and outdoor spaces have stricter curfews. Use of outdoor/upstairs spaces may incur additional costs for security, staffing and licensing and may not necessarily increase the capacity of your event significantly. Please discuss with your requirements with your bookings administrator.
Can we have fire-breathers? Pyrotechnics are not permitted within the internal spaces. We have a limited number of days per year during which we can host events externally and any use of flammables must be adequately insured and risk assessed. Be sure to discuss with your bookings administrator any fire-display ideas you have well in advance so that we can ensure your event runs smoothly.
Can you reduce the rates for a smaller capacity event? There are standard costs which are incurred including a minimum number of security and staff. Therefore there is limited room for reducing fees from our standard rates. If you feel you require a smaller capacity, it might be worth approaching a smaller venue who will be able to work with you to stage the event you want.
Can we use our own tech and equipment? Any equipment you bring into the venue must be appropriately PAT tested. In order to ensure high quality of sound we stress that promoters use our in-house L'Acoustics PA and work with one of our preferred suppliers for other equipment and engineer requirements. If you wish to go it alone, your bookings administrator will need to know who's running the tech side of things, so that we can ensure your event is delivered to a high standard. Check out our Tech Spec for more info.
Can you help us promote the event? We list all events on our website and social media, as well as listing in our quarterly listings brochure. We also display and distribute posters and flyers, please speak to your bookings administrator about any help you need with this. The more lead-in time your event has, the wider we can push the event.
What is the venue's position on 'legal highs'? 'Legal highs' - along with other illegal substances - are not permitted by law at the Trinity Centre. The Psychoactive Substances Act 2016 states that it is an offence to produce, supply, offer to supply, possess with intent to supply, import or export psychoactive substances (aka 'legal highs', for example, Nitrous Oxide).
How do I hold a date? If you're looking to hold a few dates while you wait to confirm artists, we are able to do this as long as there is adequate lead-in time. If you've pencilled a date and someone challenges this, we will get back to as soon as we receive the challenge. You will have 48hrs in order to confirm the date; we will usually require a 50% deposit to secure a date, unless otherwise agreed in writing.
Image courtesy of Nathan Hicks