by emma —
last modified

16/11/2017 02:41 PM
Benefit Gigs
by emma —
last modified

16/11/2017 02:41 PM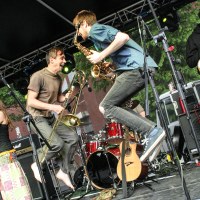 How to make your benefit gig at Trinity a success
Introduction
This guide is designed to help you put on on a great night, avoid pitfalls and ensure you maximise profit for your chosen cause.
The Venue
Capacity - Trinity is a 650 capacity venue and a challenging space to fill, even for experienced promoters.
If you are a small group or individual and this is your first gig, we would suggest finding a smaller space free of charge such as a pub-room or bar, that you are able to pack out.
Costs - Trinity is a registered charity. Our live-music progamme provides a way of generating vital revenue to fund our own charitable activities.
Trinity receives frequent requests for free space for benefit gigs and unfortunately we are unable to offer the venue for free.
Regardless of how worthy the cause we are simply not able to cover the costs of raising funds for other charities at the expense of our own charity. However, each year, Trinity is able to subsidise costs associated with a limited number of benefit gigs, you can find our more about this scheme below.
Check out the Bookings area of our website for more info

Who
Team - Organising an event is not easy. Don't go it alone; put together a committee or core team of friends and volunteers that will take responsibility for key tasks.
Charity - if we host a benefit gig, we would like confirmation from your chosen charity that they are happy for the event to go ahead.
Artists - Trinity is committed to paying Artists fairly; where Artists have agreed to wave their fee, we require that the Organiser ensures that they have worked to find a fair alternative method of payment. Publicity for the Artist during the run up to the Event does NOT constitute fair payment.
Audience - research your chosen theme and music act/genre so you know where to place your marketing, how you will attract an audience and how to compete with other events happening at the same time.
Check out our Gig Hire FAQs for more info
When
Date – this sounds obvious but it's important to check listings to see what else is on around that time. Bristol is a creative hive, so there will always be something else on. Try to avoid direct clashes with artists of the same genre, or booking an act if they have recently played somewhere in the city - especially if it was for a free or cheaper event than the one you're planning to run.
Lead-in - You will want to promote your event with at least three-months lead-in time to get the word out and ensure you sell-out.
Six months is better and gives you time to downsize to a smaller venue or cancel the event if you haven't sold enough tickets.
Budget
Budget - Agree a realistic budget when you start and stick to it. This should include: Artist Fees; Venue Hire; Technical Sound & Lighting; Promotions and Marketing; Expenses and Rider. Be realistic about what you will make for tickets and how you will cover costs if you only sell half your ticket allocation.
Pre-sales - Trinity is a destination venue, we do not benefit from a large passing trade and rarely get 'walk-ups'. It's important you pre-sell as many tickets as possible and we may suggest to pull the night if you haven't sold at least 300 tickets.
Sponsorship - try to find a local or corporate sponsor or someone that may fund the up-front event costs. It will give you a bigger budget to work with which will help to get the word out and attract more people to the event.
Contingency - factor in a small contingency budget, but make sure you stick within your limits, as it will be you that ends up out of pocket.
Promotion
Presence - make sure you have a strong online and social media presence. Ensure everyone you know likes and shares your event info
Acknowledgement - in all your literature, make sure you clearly state what charity is being supported and also use Trinity's logo so people know where you're having the event.
Décor
Keep it simple – it's easy to get carried away, but bare in mind this element of your event isn't going to make you any more money and may end up costing you more in time and effort than is needed. Simple drapes and spotlighting goes a long way and won't break the bank.
Leave No Trace – we're a listed building and have limits on where/how you can attach décor.
Check out our Terms & Conditions for more info
Remember
Competition - you have to make sure you put on a professional night that people want to come to. In Bristol, gig-goers are spoilt for choice as far as live music is concerned, which means making your night a success is all the more challenging.
So what? - the cause is not often enough to get people to part with their cash; you have to be offering people something they want to pay for. Think to yourself, would you pay the price you're asking to see the act you're programming?
Honesty - Do contact us any-time during the run up to your event to discuss your plans, questions or queries. Be honest with us about how it's going - we can help you to spread the word and give advice around any aspect of your event and/or rearrange the event if things aren't going according to plan.
Fundraiser Scheme
Each year, Trinity is able to subsidise costs associated with a limited number of benefit gigs, where the charitable cause supported, helps us to meet our own charitable objectives.
For more information, please download our Guidelines and complete an Application Form
Please note, applications must be received six-months before the proposed event date.