by sarah —
last modified

11/02/2021 06:36 PM
What Words Are Ours? by Talia Randall
by sarah —
last modified

11/02/2021 06:36 PM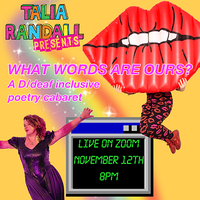 Promoting Trinity's live D/deaf inclusive poetry caberet, Nov 2020
This poem is from What Words Are Ours? by artist Talia Randall. It was originally live streamed via Zoom and Facebook, Nov 2020 as part of Trinity Presents Online, funded by The Culture Recovery Fund.
Funds have been made available by the Government to support organisations like Trinity to weather the impact of coronavirus and come back even stronger, whilst also providing a much needed arts offer.
What Words Are Ours? was an exciting D/deaf inclusive poetry cabaret performance, featuring BSL interpreter Becky Barry.
Keep an eye out on our website and social media channels for other upcoming performances as part of #CultureRecoveryFund.

#TrinityPresents
#HereForCulture