Trinity given emergency funding by Arts Council
Trinity will be supporting artists to create original work as part of Trinity Presents Online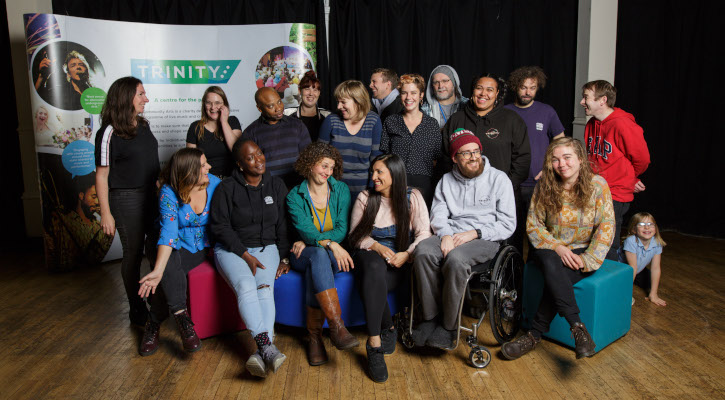 Team Trinity, pre-lockdown
The Trinity Centre, Old Market, has been given a grant of £35k as part of Arts Council England's £160m emergency package to support the arts sector during the Covid-19 pandemic.
Over 80% of Trinity's revenue is earned income from live music, bar sales, a pay and display public car park, plus hall hire for a range of community events and activities. Trading has ceased since the pandemic and the venue is anticipating a slow recovery once restrictions begin to lift, due to potential extended restrictions on public gatherings.
The grant from Arts Council England will be used to support Trinity through its recovery plan as well as help us to adapt existing projects and move activities online. As this is also a very difficult time for artists and freelance practitioners, Trinity is committing 20% of its grant to pay independent artists and community members for contributions to 'Trinity Presents'. This will include online workshops with Trinity's Associate Artist and local resident, Roxanna Vilk.
"Never have the Arts been more important than now, in these peculiar times. Singing, dancing, painting, drama, poetry - people are reaching out to all the art forms for nourishment, comfort, entertainment & wisdom. We mustn't starve our imaginations & Trinity has a part to play in refreshing & delighting its followers. I'm thrilled to be one of them." Miriam Margolyes OBE, Trinity Patron
Trinity will be releasing information about an open-call commission for an independent D/Deaf or disabled artist to create a new piece of digital work.
Speaking of the recent support, Tom Marshman, Board Member and Local Artist said:
"Not really a time for a massive celebration party, more of an opportunity to take a breath and pause whilst we all stabilize ourselves and look forward to life after isolation. With this promise of the Emergency Arts Council Grant, Trinity can feel more assured that they will continue to be at the heart of Bristol culture and community engagement that is always people centred".
Since we began our lockdown Trinity has been working hard to ensure that we continue to reach out to our community and support the independent artists that we work with. We have been providing a digital platform via Trinity Presents. Arts Council support at this crucial point, means we can continue this offer as well as find new ways to support artists to connect communities with relevant and much needed cultural experiences.