by sarah —
last modified

01/10/2020 11:12 AM
Commission for Disabled Artists Announced
by sarah —
last modified

01/10/2020 11:12 AM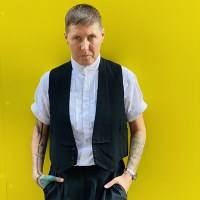 Tink Trinity Centre Resident Artist
Following a competitive open-call for applications, we are very excited to have commissioned Neurodivergent, queer artist Tink Flaherty as part of our Trinity Presents programme. Tink will develop a brand new idea for an online audience called 'Bed Bloggers,' a performance aiming to challenge the stigma associated with spending a day in bed, by starting a series of intimate performances directly from their bed.
Tink applied along with 38 other artists to our joint commissioning opportunity delivering in partnership with Cambridge Junction, made possible using Arts Council England's Covid-19 Emergency Respond Fund.
"I am delighted to be the recipient of the Trinity and Cambridge Junction commission for my project Bed Blogger: Bed Blocker is a person who occupies a hospital bed long-term, the suggestion being they might be overstaying their welcome, blocking the bed from being used by other patients. I am particularly interested in working with neurodivergent artists and engaging neurodivergent audiences, those with long term health conditions and those who experience disability." Tink Flaherty
Tink will be working with Efi Ntoumouzi, a multimedia artist to design and curate a brand new online experience /exhibition space and artist Katy Baird, who will work alongside Tink to devise and develop the performance element of the work.
The panel that had the tough decision on which artist to award the £3,000 commission to included community partners and participants from both Trinity and Cambridge Junction. Panel member Sam Ross said "Tink's project is a worthy commission, and promises to fully exploit the creative demands and possibilities of digital performance, in order to rewrite the social narrative around chronic invisible illnesses and the act of being bedbound." Other panels members included TV scriptwriter and playwright Jane Carter Woodrow, MAYK Co-Director Kate Yedigaroff, Troop member and Performer Sam Ross, Total Arts participant Mary Ellen and Director and facilitator Gavin Dent.
You'll be able to check out Tink's project by following us on our social media channels and keeping an eye on our news page. To find out more about Trinity's Arts programme head here
*Neurodivergent is a person whose brain does not work as generally expected or accepted by society (Oliver, 2019:3)