by sarah —
last modified

25/08/2020 01:33 PM
Open Call for D/deaf or Disabled Artist
by sarah —
last modified

25/08/2020 01:33 PM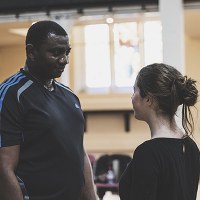 Trinity Centre Bristol open call work for an online audience
In these challenging times, Trinity and Cambridge Junction have come together to offer a £3,000 commission to a D/deaf or Disabled Artist(s) to create work for an online audience.
We will commission one new piece of work and want the brief to be as open as possible, so you can respond in a way that best suits you as an artist. We welcome artists of any practice, working in any art-form, to apply.
We want to commission:
A brand-new online performance/exhibition that can remain available to experience for a set period of time – we want people to be able to experience your work safely from their homes

One artist who identifies as D/deaf or Disabled, or a collective of artists where at least 50% of the collective identify as D/deaf or Disabled

Work that will be completed and distributed online before the end of October 2020
We expect applications to include:
A consideration of audience access within the commission fee

Confirmation that artist access costs are covered by the commission fee or by Access to Work or similar
We will provide:
A commission fee of £3,000

Producing support: we don't want anyone to be put off if they don't have producing capacity at the moment

Marketing and digital content support: we want your work to reach far and wide

The platform for sharing your work: Trinity and Cambridge Junction's social media platforms and those of our partners are readily available to platform your work
At Trinity we programme using a 'Programming Forum' which you can find out more about here. The final decision on who receives the commission will be made by a forum made up of local artists and community members from both Trinity and Cambridge Junction.
To apply:
Applications for this opportunity have now closed.