Roxana Vilk - Lullabies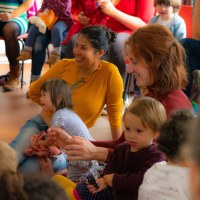 Lullabies is a project by Associate Artist Roxana Vilk, connecting people around the world through lullabies.
Inspired by singing traditional Iranian lullabies to her children at night, Roxana wondered how many other families where singing lullabies in the many languages spoken across Bristol. In 2018, Roxana began to collect lullabies with local families, during her IGNiTE residency at Trinity.
In 2020, the project was selected to be part of the Nationwide Here & Now project, celebrating 25 years of The National Lottery. Roxana continues to collect, record, and share lullabies from around the world, using them to find common ground between different communities and cultures.
You can take part in the project and be part of an online exhibition sharing Lullabies from across the world.  Submit yours online here.