by sarah —
last modified

03/12/2019 01:48 PM
Profile: Roxana Vilk
by sarah —
last modified

03/12/2019 01:48 PM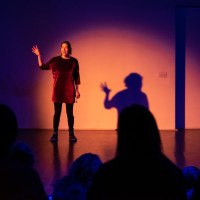 Trinity's IGNiTE programme of theatre and dance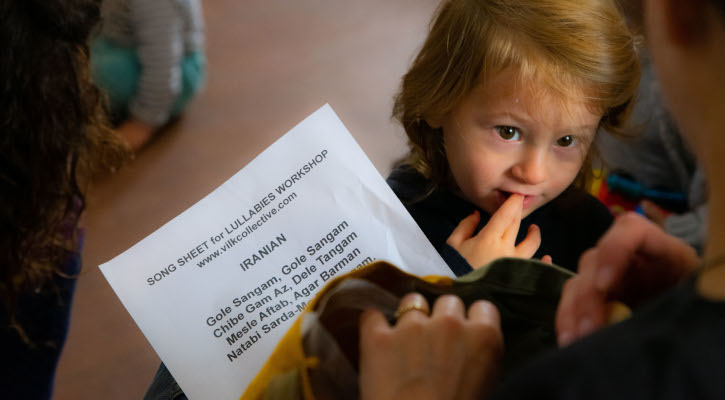 Mothers, fathers and children learnt to sing lullabies from around the world at the Easton Community Centre workshop in October 2019.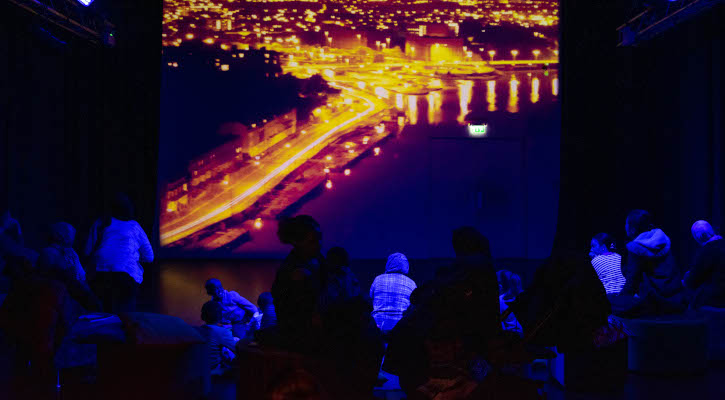 'Lullabies' sharing at Trinity
Roxana is a British-Iranian artist with a background in physical theatre, film and music. In 2018 Roxana Vilk moved to Bristol from Scotland and started teaching English to refugee women at the Malcolm X Centre. After attending a drop-in for international parents at her son's school, she was inspired to use lullabies to bring communities together. Soon after this, Roxana applied to become an IGNiTE resident
"When I walked into Trinity I thought 'Ok, this is home" Roxana Vilk
Our community-led approach is what made her chose IGNiTE over other residencies that were available in the area. Joining us gave her a sense of grounding that helped her kick-start her artistic work in Bristol. During her four months with us, she grew her idea from "seed" stage to full blown project.
Roxana developed "Lullabies" together with local communities by collecting, recording and sharing songs from the many cultures in Bristol. Here she was filmed by the BBC during a workshop at Easton Community Centre, delivered in partnership with Up Our Street.
The Trinity team members supported Roxana with project planning, producing and time management guidance. This supported her growth as an artist. Roxana also feels like Trinity's networks and connections benefited her project. The IGNiTE residency also allowed Roxana to develop new skills and take artistic risks, allowing her to "get out of her comfort zone".
"There's a deep respect for Trinity amongst artists, and an awareness that there is integrity in any work that is supported by the venue."
With Trinity's support Roxana is continuing to develop "Lullabies" gathering songs with Bristol-based communities and running workshops culminating a "Lullabies" showcase at Trinity in 2020.
Finally, Roxana feels like IGNiTE really benefit marginalised communities in Bristol. Several people at the Trinity sharing said they had never attended a show or been involved in one before because opportunities are usually not communicated to them. Roxana believes the local engagement work Trinity does, makes it the most distinctive community arts provider in the area.
"If the Arts Council is all about prioritising access to the arts, supporting Trinity and more specifically the IGNiTE programme is a no brainer."
About IGNiTE
IGNiTE is Trinity's in house programme of world-class, innovative theatre and dance about issues that matter to people now, starting conversations and sparking debate. IGNiTE is supported using public funding by the National Lottery through Arts Council England and by Bristol City Council.


Photo credits @ Alexa Ledecky www.alexaledecky.com