by sarah —
last modified

08/07/2022 12:31 PM
Bristol Dances
by sarah —
last modified

08/07/2022 12:31 PM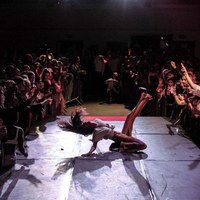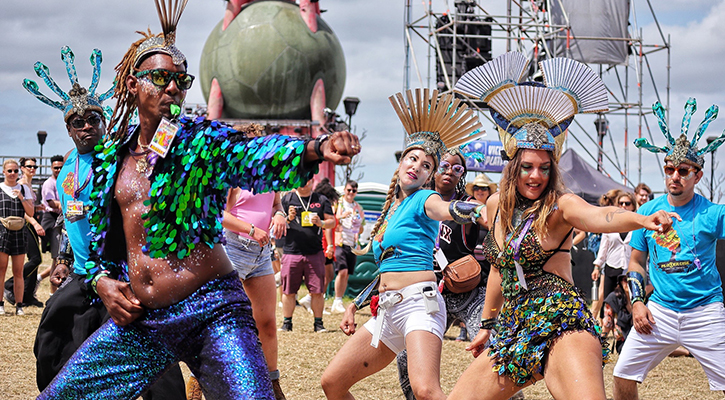 Take part in carnival style dance at this years Harbour Festival
Trinity have curated a two-day programme of dance as part of this years Harbour Festival (16/17 July).
Following on from the success of 2019's Bristol Dances stage we have reached out across the city to give audiences a taste of the wide-ranging professional, community and cultural dance Bristol has to offer.
Over two days audiences will experience the breadth of dance in the city from Irish Dancing to Bharathnatyam Dance to Voguing. Highlights include DMAC's Afrikan Dance, Drumming, Indigenous Storytelling & Capoeira Angola, performances from award-winning dance troupes, HYPE and Miss Daisy's and Decolonising Memory: Digital Bodies In Movement.
D_wild Fitness will get people  moving with their dance fitness classes featuring afrobeats, soca and dancehall music. Enjoy samba-inspired drumming and dance troupe, Bristol Samba and acoustic performances from Aisha Ali, Bemudian folk artist Anna Colette and Portuguese neo-soul singer Luna Kali.
This year we also continue our commitment to collaborating with collectives and organisations who are working to amplify grassroots voices. This showcase will feature KIOTA collective, Bristol's Got Talent and musicians from Lorraine Ayensu Refugee Arts organisation. The Art of Resistance showcase, inspired by the rich history of creative protest in Bristol, will feature some of Bristol's best and up-and-coming arts activists working across poetry, performance and movement.
Don't miss out - catch all this at Bristol Dance Stage, curated by Trinity, at Millennium Square 16/17 July 2022.
Full lineup
Bristol's Got Talent 

•

D_wild fitness 

•

Miss Daisy Dance Team 

•

Anna Colette 

•

Bristol Ballroom Presents 

•

Kiota Showcas 

•

Gerry's Attic 

•

Hype 

•

L.A Dance 

•

Aisha Ali 

•

Feel Fit Studio 

•

Luna Kali 

•

Bristol Samba 

•

IAM13E 

•

Carnival Fitness by PILOXERCISE 

•

Movema Community Dance - World Fusion 

•

Musicians from Lorraine Ayensu Refugee Arts 

•

Decolonising Memory Digital Bodies In Movement 

•

Sublime Dance Troupe 

•

StreetCred 

•

McClennan Academy of Irish Dance

•

Rise 

•

Bharathnatyam Dance Piece from traditional Margam 

•

DMAC UK Presents: Afrikan Dance, Drumming, Indigenous Storytelling and Capoeira Angola