by sarah —
last modified

01/11/2022 07:08 AM
Creating 'Home' with Spilt Ink
by sarah —
last modified

01/11/2022 07:08 AM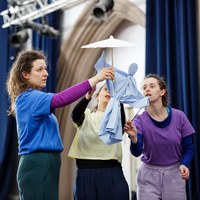 Spilt Ink
Spilt Ink developed Home at Trinity in collaboration with local school children
Spilt Ink Theatre, a trio of performers who specialise in movement, clowning and puppetry, created a new piece of work for children through a paid Trinity commission. The company worked in collaboration with a local school to develop a movement piece called 'Home' - a piece that would celebrate the many cultural heritages of children in Bristol.
"My 4-year-old was totally engaged, repeating the keywords from the main character. She even wrote her own letter!"
Split Ink embedded themselves in the school. Many children felt anxious at first, having recently experienced disruption due to Lockdown restrictions however, through small group workshops, games and storytelling activities the children increased their confidence. As part of the journey children shared their own stories, many of whom had experienced the themes explored in Home, such as experiencing migration.
The final part of the development of the work saw the company inviting the children, their teachers and their families to Trinity to see a preview of the performance Summer 2021. As part of the post-show discussion the children shared their own insight into the themes of flight, home and belonging.
Having developed the seed of Home, Spilt Ink are now in the process of realising this into a full length children's performance to be completed in collaboration with local school children and presented at Trinity in 2022.