by sarah —
last modified

10/06/2022 09:28 AM
Big Tent Ideas Festival
by sarah —
last modified

10/06/2022 09:28 AM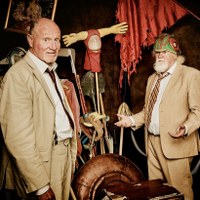 Bristol City Poet Caleb Parkin, innovative performers Desperate Men and award-winning Youth Dance Company Hype Dance are set to perform in front of UK politicians and policy makers as part of this year's Big Tent Ideas Festival on 11 June 2022, Queens Square.
'Our artistic selves are the part of us that gives us freedom, expression and happiness. A society that denies us access to the Arts also denies us opportunity for change and celebration" Angie Belcher, Comedian
They join a packed programme that includes political debates, arts, a Speaker's Corner, Community Fayre and a Dragon's Den-style pitching competition and will feature Government ministers, the Head of the UN Refugee Programme in the UK, Twitter's former most senior executive in Europe and the Chair of the No Place Left Behind Commission of political debates.
As part of the festival we have joined forces with Bristol DIY Arts Network to shine a light on Bristol's diverse and rich cultural offering and have invited cultural leaders in the city to take part in keynotes and panel discussions that will explore the role of culture in driving change in the city and what 'City of Culture' means for an independently creative city like Bristol.
Guests include director of Knowle West Media Centre Carolyn Hassan, CEO of Quartet Foundation Suzanne Rolt, Executive Director of St Pauls Carnival LaToyah McAllister-Jones and Melanie Rodrigues, founder and CEO of Gritty Talent as well as comedian and writer, Angie Belcher, who hit UK headlines recently after successfully gaining funding for 'comedy on prescription'.
Trinity's involvement in coordinating this is part of our Heritage Lottery Funded Art of Resistance, a two-year project that seeks to platform art from social movements throughout Bristol's history.
Ticketholders will have the opportunity to communicate with leading politicians, including the Mayor of Bristol, local councillors and Bristol's MPs, and shape the discussion. In a constructive and non-partisan environment, more akin to a music festival than a political conference, ticket holders will be able to:
Tell the Science, Research and Innovation Minister, George Freeman MP, what businesses really need to thrive
Ask Shadow Leader of the Commons, Thangam Debbonaire MP, how policy-making can be made more inclusive

Talk about Ukraine with Lib Dem Spokesperson for Foreign Affairs, Layla Moran MP, and Chief Executive UNHCR (UK), Emma Cherniavsky.
Enjoy performances from some of Bristol's best artists
Book your tickets for the Big Tent Programme now at www.bigtent.org.uk