by emma —
last modified

17/02/2021 11:19 AM
Free Speech
by emma —
last modified

17/02/2021 11:19 AM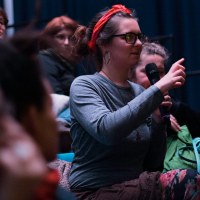 Trinity believes freedom of expression and intellectual freedom are at the heart of our mission

Discussing issues raised in performances is a key part of our IGNiTE programme. Here Keisha Thompson and Eshiva Wright take part in a post show talk back (photo @ Jessica Bartolini)
Principles
1. Trinity believes that freedom of expression and intellectual freedom are at the heart of our mission and must be fully reflected in our policies and practices. Trinity supports the right to hold events, conferences, performances and exhibitions that explore controversial topics and subject matter. We will seek to foster an atmosphere of free and open discussion within our spaces and programme. Our approach is to enable and promote free speech and encourage debate of all kinds.
2. There are legal limitations to the right to free speech. While there is freedom to challenge or debate the law, moral or other issues, this does not give permission to break the law. This can include: incitement to violence or to breach the peace use of threatening words or behaviour intended to provoke racial or religious hatred or hatred on grounds of sexual orientation or gender, or to encourage or draw people into terrorism We are committed to being mindful of our responsibilities to ensure that our premises are not being used for unlawful purposes, including those which may negate the enjoyment of that freedom for others, in line with the law and our our Code of Conduct and Equal Opportunities policies.
3. We are committed to taking reasonable, practical measures to consider the content of a show, activity or event, in order to uphold the principles set out above. Trinity is committed to treating people fairly and supporting a wide range of activities and viewpoints. In deciding whether or not to proceed with an activity, we will seek to ensure that reasonable steps are taken to: assess the activity and discuss its implications across the organisation research and take advice from outside the organisation ensure Trustees support decisions record why we are pursuing a course of action, logging any decision making process
4. To take action where an event or activity breaches this policy. With over 400 events and activities annually, and the diversity and eclectic nature of our use, it is not always possible for us to pre-empt an issue that may arise from an activity's topic or content. If you are a member of the public and have a concern about a particular event or activity, please contact us.