by sarah —
last modified

12/08/2022 12:20 PM
Space for platforming emerging talent opens
by sarah —
last modified

12/08/2022 12:20 PM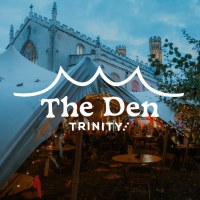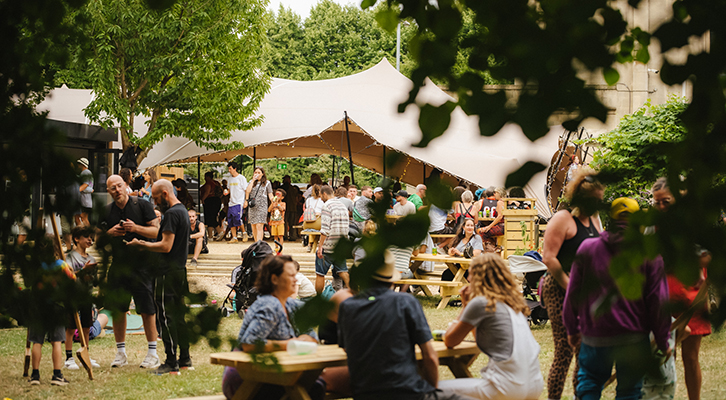 Peachin' Day Festival. Photo credit Khali Ackford
In our commitment to platform emerging talent and provide access to quality facilities for the community, we're excited to announce a summer season of live music and spoken word events in our outdoor space, 'The Den'.
Between July-September 2022, we will be showcasing some of the best breakthrough artist from Bristol and the South West alongside a wider programme of family friendly arts activities and events.
"Trinity have always been there providing a space for us and many other artists to do what we do best and always put creativity and community first" Ishmael Ensemble
We've joined forces with collectives who are making waves in the region including Bristol poetry collective Raise The Bar, who are bringing Youtuber Leena Norms to perform, 31 July and multi-disciplinary Arts organisation Beyond Face, who will take over The Den to showcase spoken word artists from the global majority.
Head over to our What's On section to find out more about events and activities at The Den.
About The Den
Our vision for The Den is to increase our presentation of creative and performing arts, and alongside this provide facilities in the interests of social welfare for recreation and leisure for community groups and local residents.
Funded by Power to Change, Bristol City Council, Tarmac Landfill Communities Fund and match funders, our revamped outdoor space feels like a secret, magical corner of a festival. The space - including bar, kitchen, outdoor seating and stretch-tent – is set within our beautiful garden and heritage grounds.
The works form part of Trinity's phased capital works programme, that paused in 2020 when the impacts of COVID19 and Brexit caused delays to planned construction of a larger scheme of work, including a two-story kitchen/bar with offices and outdoor area.
Venue Director, Jamell Ackford said; "Like many music venues, we began to get creative with our outdoor space in response to pandemic restrictions, launching the 'Garden Sessions' in 2020.
Following support in 2021 from the Architectural Heritage Fund to to revisit and revise our Feasibility Study, a detailed community consultation helped us to find out what the community wanted from us in a post-pandemic environment. From this, we updated our original plans and the idea for 'The Den' was born.
With this new bespoke setup, The Den will provide wider opportunities including supporting local food and community activities, as well as giving audiences a unique experience."
As part of Trinity's post-pandemic responses, a Community Activities Coordinator has been appointed to support 'Community Kickstart' activity – working with local residents, grassroots groups and charities to establish new activities from the space.
If you are a local resident or group and would like to run an activity for the local community, get in touch with stefan@trinitybristol.org.uk to find out more.