by rhiannon —
last modified

04/02/2015 04:12 PM
Bunty Multimos, Drenge and Babes In Toyland now on sale
by rhiannon —
last modified

04/02/2015 04:12 PM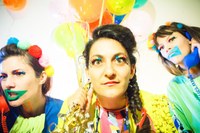 Bnuty - Multimos live show coming to Trinity 10.04.15
Announced today we have Bunty Multimos live show - epic audio visual feast from Kassia Zermon, best known for fronting UK leading Dub act Resonators, coming to Trinity Friday 10th April.
More upcoming gig highlights include Drenge - successfully relying on the heavily distorted guitar riffs of the grunge era; Babes in Toyland - original late 80s post punk band whose raw live show "captured a musical and cultural moment; angry, talented and unfettered by societal norms"; Dunkelbunt + The Secret Swing Society - " labelled "a wizard of tone colours" and "specialist for exquisite music & spice blends" are also new to the listings.

This month we still have Honeyfeet, Bombs, Simon Panrucker, Count Bobo,Eva Lazarus & Snareophobe + more all playing live Saturday 14th February and Teachings in Dub finally announce their line up for Deep Medi including Commodo, Kaiju, Kahn, Gantz and Compa. This goes on sale Thursday so get in quick as guaranteed to sell out.

For those interested in performance check out Get Lucky - fantastic triple bill from Julia Thorneycroft dance or SOLO Forum Showcase - two evenings of new shows including four premiers from artists Alice Human, Ale Marzotto, Bella Fortune, Hannah Sullivan and Jo Hellier all happening in March.

We have plenty more up on the events pages so check them out.