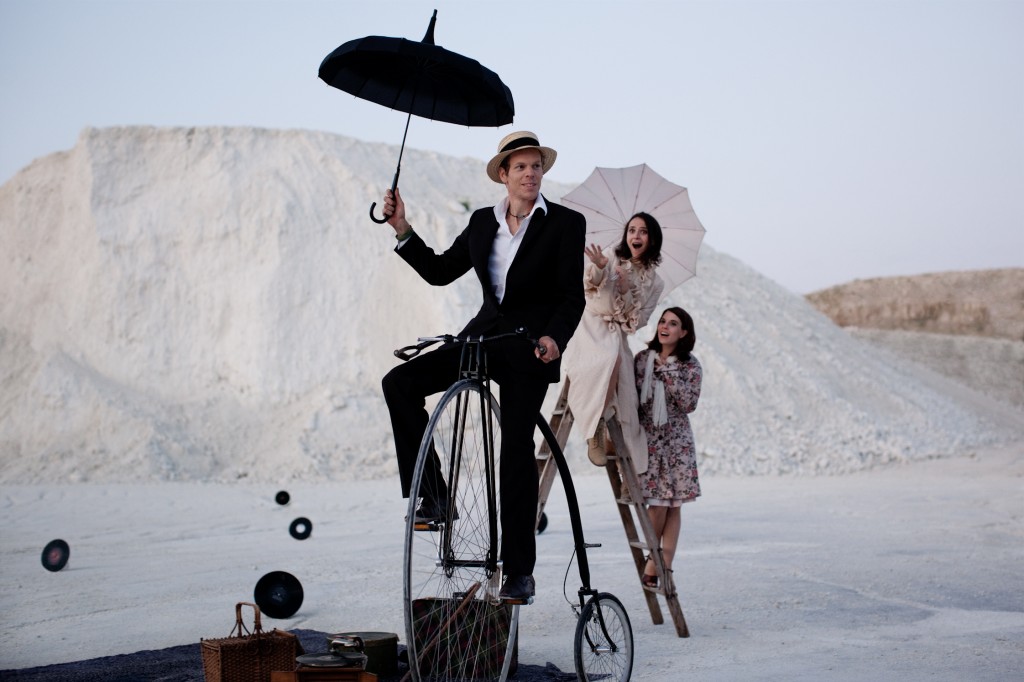 Dunkelbunt LIVE / Manushka / Mr Tea + more
Presented by: Bare Safe + Goulash Disko
DUNKELBUNT & THE SECRET SWING SOCIETY
Ulf Lindemann aka [dunkelbunt] has been labelled "a wizard of tone colours" and "specialist for exquisite music & spice blends". At the beginning of the millennium in his Vienna studio, he began to merge electronic music with Balkan, Gypsy and Swing sounds and along with his contemporaries like Waldeck, Parov Stelar and Shantel helped popularize the new music genres, Electro Swing"
and "Balkan Beats". For the last decade he has toured the world with his live act and as a DJ.

His 7-piece band will be launching the new Album 'Mountain Jumper' which: 'merges the diverse sounds of Europes "Wild East" with bluegrass, hill billy and country from the American pioneers of the old "Wild West". Sounds of the world mixed with electronic, modern club music and bass heavy beats'

The album tour takes in Austria, Romania, UK, Belgium, Poland, Germany, Spain and Bulgaria.


MANUSHKA
Bubbling up from the southwest musical melting pot.. Manushka's offbeat vibes are made for moving feet with raucous, rambunctious stomposity!

A true example of the ever present diversity in sound from the Southwest of England. Boasting an array of live instruments including Tuba, Trombone, Flute, Accordion, Synth Bass, Banjo, amongst others. Balkan, Gypsy, Ska and Reggae are some of the many genres that this eclectic band draw their musical mega sounds from. Their offbeat vibes are made for moving the feet and causing raucous, rambunctious stomposity. Often causing feet to twitch in the most unlikely of people, they are never short of a lively and enthusiastic crowd.


MR TEA AND THE MINIONS
Cheeky Gypsy Party Music! Mr Tea and the Minions bring so much fun and energy to the stage. They love to mix and mash genres, mainly blending styles such as Balkan, Ska, Gypsy Jazz, Dub, Funk and more into an exciting collective mass of fun and energy that always gets their audience bouncing!

The Minions play a very mixture of live Balkan Electro Swing madness with an infusion of soulful melodies, cheeky Eastern riffs and booming beats and bass!


DEPHICIT vs DONJOHNSTON
Donjohnston is noted for tight, original DJ sets. Expect jazzy swinging bass music and a high energy playing style that has captivated audiences at Boomtown, Glastonbury, Electro Swing Club, Glade, White Mink, Speakeasy, Cabaret Voltaire & countless other shows.

Dephicit has a finely tuned glitch & ghetto-funk sound, bridging raw jazz, funk and swing elements with alien bass lines and rawkus beats.

Together they will keep you dancing when the bands finish, with a special back to back set!

GOULASH DISKO DJ'S
Uniting European Balkan/Global/Tropical scenes since 2012, with a Festival every year and parties around Europe the rest of the time! Very happy to have Iva and Ivez joining us from Croatia.

CIRCUS PERFORMERS

TRUCKSTOP TRAPEZE
Performing aerial hoop; silks; corde lisse; fire poi and fire nun chucks with projected visuals and shadow play.

PAYASO CIRCUS
Specializing in fun and interactive Circus-Theatre, Acrobatics, Juggling, Stilts, Fire Hoop, Doubles/ Trapeze and Flexibility.

ROSE ROKOKO & IRIS WEST
Performers specializing in decadent interactive circus theatre. Walk about and stage show inc fans and hoop.