by rhiannon —
last modified

17/09/2015 10:27 AM
Black History Month 2015 at Trinity
by rhiannon —
last modified

17/09/2015 10:27 AM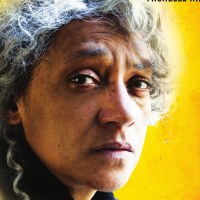 She Called Me Mother Wednesday 14 October.
"I try not to tink about she too much, 'cause de pain dem thoughts bring it like a herd of buffalo runnin wild in a field, an I beneath dem foot."
Meet Evangeline Gardner - a homeless, 70 year old African-Caribbean woman, who finds herself living on the streets and searching for her estranged daughter Shirley.
She Called Me Mother stars BAFTA and Golden Globe nominee Cathy Tyson, best known for her stage work with the RSC and the Liverpool Everyman and on film in Mona Lisa (1986)
She called me Mother is written in poetic Trindadian vernacular rarely heard on British stages.
"I believe She Called Me Mother has the potential to be a modern classic. We are going into territory that hasn't been explored on our stages before. The emotional potential of the play is boundless. I hope this play will be a rewarding experience for our audience and all those with creative involvement." (Cathy Tyson actor/producer)
This debut show from Pitch Lake Productions, founded by actor Cathy Tyson, writer Michelle Inniss and director Cara Nolan will be the second show to tour for the Black Theatre Live consortium, dedicated to bringing inventive BAME theatre to venues across the country. It follows the recently concluded tour of Tara Arts new version of Macbeth.
"I'm delighted that our consortium have selected such an exciting prospect for our first commission. The poetry of the script blew me away" (Sarah Brigham, Artistic Director Derby)
Nine Lives Saturday 17th October
Fleeing from his home in Zimbabwe where homophobia threatens his life, Ishmael has sought sanctuary in the UK. He waits to hear his fate, and for a new life to begin amongst strangers.…can he find a place to call home again?
The strangers are brilliantly brought to life by Lladel Bryant..you care as much about them as you do about Ishmael.
Performed by Lladel Bryant and directed by Alex Chisholm, the play threads together humour and humanity to tell the human stories behind the "negative reports in the public domain regarding refugees, asylum seekers and the word, immigration. (writer Zodwa Nyoni)
Nine Lives, written by Zodwa Nyoni as part of her residency as West Yorkshire Playhouse / Channel Four Writer in residence 2014, was first performed as part of West Yorkshire Playhouse 's A Play, A Pie and a Pint' season.
"a cracking piece of theatre that offers a glimpse into an issue that's present in the country and around the world today" (Adam Bruce from a A Younger Theatre)
Theatre at Trinity
These shows follow on from several successful solo shows over the last year including Chanje Kunda's Amsterdam last October and Solo Showcase in March which brought Bella Fortune, Alice Human, Hannah Sullivan and Ale Marzotto to the Centre. Fyfe Hall has the ability to create an intimate warmth, despite its grand size, making it the perfect space to get close up to the performance.