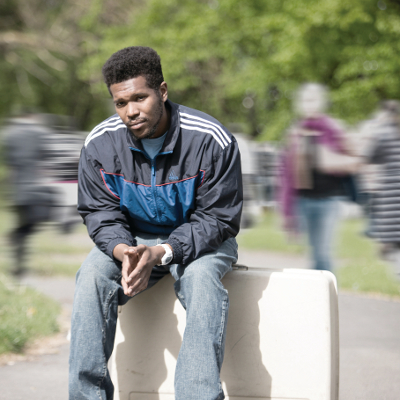 Nine Lives
Threading together humour and humanity to tell the real personal story behind asylum headlines
Nine Lives
Written by Zodwa Nyoni
Performed by Lladel Bryant
Directed by Alex Chisholm
Presented by Leeds Studio in association with West Yorkshire Playhouse
Fleeing from his home in Zimbabwe where a fresh wave of homophobia threatens his life, Ishmael has sought sanctuary in the UK. Dispersed to Leeds, he waits to hear his fate, he waits for a new life to begin amongst strangers. Strangers who don't trust him and don't want him there. But not everyone is bad… can he find a place to call home again?
Some of us wanted to stop being afraid.
Some of us wanted to find ourselves.
Some of us wanted to belong.
Zodwa Nyoni (West Yorkshire Playhouse/Channel 4 Writer in Residence 2014) threads together humour and humanity to tell the real personal story behind asylum headlines.
'the wit of the writing and lightness of the playing style gives the play its depth' The Herald.
"Nine Lives sheds some light on the reality of being an asylum seeker in modern Britain. Turns out it isn't huge flat screen TVs and cooking the Queen's swans. Who knew? "
Nick Ahad, The Yorkshire Post
" a cracking piece of theatre that offers a glimpse into an issue that's present in the country and around the world today."
Adam Bruce, A Younger Theatre
Doors: 7pm
Show starts: 7.30pm
Running time: 55 mins no interval
Age Range (12+)
View the trailer here
Excellent review here too by City of Sanctuary
The play is accompanied by a pre-show creative workshop on 17th October at 5pm:
Imagine you arrived as a stranger in a strange town. You don't know anyone and you think the people might not be friendly. What do you do?
Using drama and writing techniques, the workshop will explore issues of seeking asylum, and welcoming people who may be new and different. Lead by members of the Nine Lives company it will enable students to create their own responses to the topic and examine the play in more depth.
If your organization would be interested in participating then please contact Harriet Morgan-Shami for more information: harrietjoy78@yahoo.co.uk