by rhiannon —
last modified

21/01/2015 02:57 PM
Chrissie Hynde to perform live at Trinity this Winter
by rhiannon —
last modified

21/01/2015 02:57 PM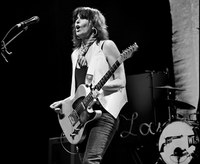 Chrissie Hynde, will be appearing at Trinity this December
Coming up to the end of a bumper October here at Trinity which has seen some super gigs (Morcheeba, FKA Twigs and Goat to name a few), stunning theatre and exhibitions and some fabulous community events including the Up Our Street Thank You Awards last night.

Still to come we have tonight Reggae Inna Space featuring film screening of 'The Upsetter: The Life And Music Of Lee Scratch Perry' plus spoken word performances from Steven Duncan (Uk Slam Champion), Nadine Bourne (Bristol Slam Champion), Chloe Laing  (Poet / Singer) and our very own Edson Burton (Writer).

Sunday sees a great opportunity for young people (11-25) to play alongside Tomorrow's Warriors Connexions as the launch of a new series of jazz jam workshop with this award-winning jazz collective and best of all its free!

On sale today we have Chrissie Hynde. Tickets already flying out so you need to get in quick to make sure you don't miss the opportunity to catch one of a handful of special shows that will see The Pretenders front woman play songs from her illustrious back catalogue alongside her critically acclaimed debut solo album 'Stockholm'.

And don't forget - Sunday 2nd November is the date for this year's FREE Fireworks Party. Live music will come from, No Go Stop (FKA Bristol Afrobeat Project), flyers are out and about or available to collect in the office and act as your 'ticket' so make sure you grab one.
To get all our updates delivered to your inbox sign up to our e-bulletin