by emma —
last modified

31/03/2015 01:08 PM
2014 round-up
by emma —
last modified

31/03/2015 01:08 PM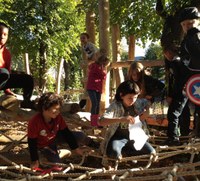 Thank you to all those who supported, funded and worked with us in 2014
The most notable achievement for 2014 was the completion of a two-year capital project, which included repairs to our South Aisle lead roof alongside significant redevelopment of our upstairs hall space and grounds.
Contractors gcp Chartered Architects and CW Duke worked tirelessly and within strict budget and deadline to complete the scheme of works, which included a new reception area, heating system, partition wall, sprung wooden floor, lighting and drapes - to enable us to provide a more flexible space for the variety of uses of the centre.
The plan to redevelop the Trinity Centre has been an ambition for decades and this former converted church has long been a focal point for the cultural and community activities in East Bristol. Thanks to support from funders including Big Lottery Fund and Ibstock Cory Environmental Trust, these long-held aspirations have now become a reality. With a second large hall space in the upstairs of the Centre, we are able to provide access to high-end facilities at affordable rates for a range of activities including dance, performance, meetings, conferences, weddings and more.
Over 200 Friends of Trinity turned out for our official opening of the new 'Fyfe Hall', named in memory of former board member Nicholas Fyfe, who passed away in 2007. The event gave people in the community and users of the Centre the opportunity to see all the improvements made to the building and the audience were entertained by Bristol Reggae Orchestra who gave an outstanding performance as the first musicians to perform in the newly renovated space. This was folloed by the public relaunch event with a performance from Adrian Utley of Portishead.
Throughout the year, the Trinity Centre was used by over 40,000 people, across 222 activities and events. This includes:
7674 participants in community events, across 12214 unique visits
730 people participating in projects such as our Community Garden, Arts West Side and Vice & Virtue
41 young people involved regularly across our youth music training programme
53 volunteers supporting across all activities
provided 4 paid intern-ships for young people aged 18-24 through the Creative Employment Programme.
Our Trinity Community Initiative (TCI) provided 1,180 hrs of free or subsidised space hire at The Trinity Centre for grass-roots groups and community projects (inc theatre and dance rehearsals), meetings and events and approx 125 hrs at Arts West Side – our satellite venue on Old Market High Street.
In line with the Bristol Green Capital 2015, we will be focusing on making Trinity more sustainable, both environmentally, through taking steps to make Trinity a greener venue and financially, through building our reserves. Our activity plans for 2015 include exploring new ways of bringing communities together, such as a series of live community-debates, taking more artistic control over our live-programming and providing more learning opportunities for young people. We're looking forward to doing more for our communities in 2015!