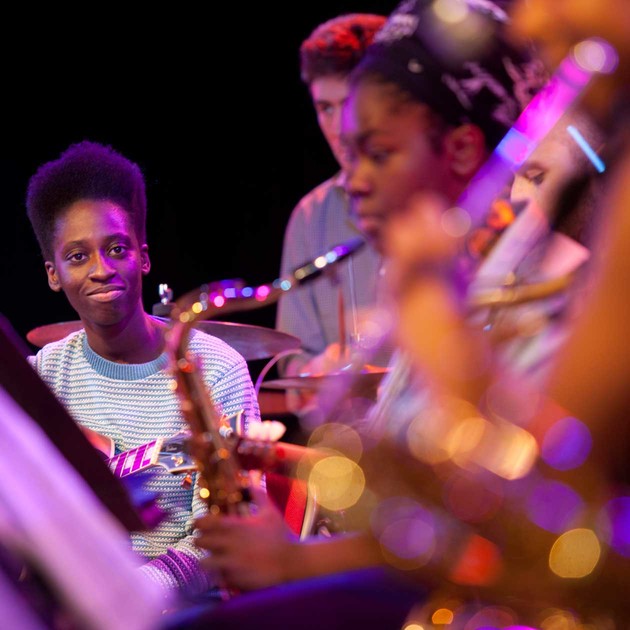 Tomorrow's Warriors Jazz and Jam
A jazz jam workshop session from this award-winning jazz collective
Tomorrow's Warriors is the hippest young jazz collective in the country and in 2015 is returning to Bristol to run a brand new series of jazz workshops, at Trinity Centre for young musicians with lots of potential and who just love to know more about playing jazz. Tomorrow's Warriors has spawned some of the most exciting young jazz musicians over the past two decades, including the award-winning Zara McFarlane (MOBO Best Jazz Act 2014); Moses Boyd, winner of the 2014 Worshipful Company of Musicians' Prize for Young Jazz Musician of the Year; and Music for Youth National Festival Award winners for Best Jazz Ensemble Tomorrow's Warriors Female Collective (2014) and Ezra Collective (2013).
Tomorrow's Warriors has been instrumental in developing several internationally-touring artists, helping them achieve their ambitions and forge successful professional careers...Denys Baptiste, Soweto Kinch, Abram Wilson, Nathaniel Facey, Jason Yarde, Julie Dexter, Andrew McCormack, Shabaka Hutchings, Eska Mtungwasi...out of a cast of so many others!
Tomorrow's Warriors founder and artistic director, Gary Crosby OBE heads the Young Artist Development Programme with a fabulous team of inspirational music leaders – all active professional musicians developed through our programmes who can help young people discover what it's like to be a real jazz musician.
We're inviting young musicians to come along with instruments and take part in Tomorrow's Warriors inspirational jazz workshop where they will enjoy:
Learning how to understand and express the language of Swing Exploring Jazz and its influence on music from the African Diaspora Skill building and community building in music - learning to come together Expressing life through music and Jazz Tomorrow's Warriors monthly workshop sessions take place on Sundays at the Trinity Centre.
These workshops are completely free to join so there's no need to worry about the cost!
Our sessions are open to all budding musicians: they don't need exams but should have the desire to play jazz music, bring their own instruments (except for drums and keyboards which will be provided) and bags of enthusiasm.
The workshops and open jam session are followed by a performance featuring current Tomorrow's Warriors' young musicians, ending with a blues played by all the participants and Tomorrow's Warriors.
Workshops 2.00-3.30pm
Open jam session 4.00-4.30pm
Performance 4.45-5.15pm
Workshop dates 11 January, 8 February, 8 March 2015
£FREE to book your place contact: rhiannon@3ca.org.uk / Tel: 0117 935 1200
Find out more about Tomorrow's Warriors:
W: tomorrowswarriors.org / T:@Tom_Warriors / F:facebook.com/tomorrowswarriorsmusic