by rhiannon —
last modified

21/01/2015 02:57 PM
New Year's Eve line up revealed!
by rhiannon —
last modified

21/01/2015 02:57 PM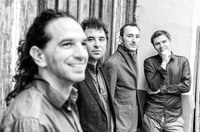 Arifa coming to Trinity 20.11.14
We are very excited to announce this year's NYE Party: 2014/15 will be brought to you by After Dark who have teamed up with Tremor vs Swing 'n' Tingz': The Countdown Carnival with very special guests Slamboree - expect walkabout circus performers / outdoor fire performers / carnival décor / full SXS lighting rig / full SXS 30k martin audio sound system / carnival fancy dress is encouraged!

Coming up this Thursday we host a special performance from Arifa, performing in Fyfe Hall (our new upstairs space) playing one of only 3 UK gigs; "artistic sophistication, technical mastery, and fascinating blend of backgrounds and influences make it highly recommended listening". Tickets for available from Bristol Ticket Shop or on the door. This will be a unique chance to catch a "masterpiece of postmodern, post-global cool".

If dance is your thing then check out Around the World in 80 Minutes a wonderful night of New Orleans jazz, tango, flamenco, afro-beat and opera, featuring South West Dance Theatre, Jazz Quartet, Movema, Rise, 3rd Stage, and more...all raising money for Shelter.

Also plenty of new additions on the website including This Is The Kit + The Fantasy Orchestra, 27 (a new performance from Peter McMaster as part of IBT15) and  Sharon Van Etten. Check it out!