by sarahb —
last modified

19/06/2017 11:06 AM
Utopian futures imagined by IGNiTE residents
by sarahb —
last modified

19/06/2017 11:06 AM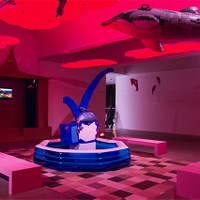 Back in 5 Minutes Squad and Art in Motion

Paradise City
Over ten days IGNiTE summer residents Back in 5 Minutes Squad and Art in Motion will be creating an evolving installation up in our Fyfle Hall.
This is super exciting as Spike Island Residents  - Back in 5 Minutes Squad and emerging not-for-profit participatory arts organisation Art in Motion (AIM) will be collaborating for the first time for this project.
Evolving over the ten days of the residency these two diverse groups will collaborate to portray their vision of an ideal, egalitarian future in which humans of all types and abilities coexist peacefully and purposefully together - the fabric of this future city will reflect the diverse and idiosyncratic interests of all the artists involved.
From Monday 19 the artists invite you to visit during this exciting process and Paradise City will be open to everyone for a celebration event from 5-7pm in the Graffiti Room at Trinity on Thursday 29 June.
Paradise City is supported by Arts Council England via Grants for the Arts and by Trinity Community Arts.