by sarahb —
last modified

12/07/2019 09:12 AM
Making Stuff About Stuff
by sarahb —
last modified

12/07/2019 09:12 AM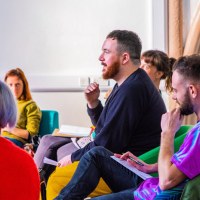 Scottee's show Fat Blokes sold out at Trinity Centre
Artist and performer, Scottee makes work about things that they really care about, we programmed their show Fat Blokes as part of IGNiTE Spring 2019.
Scottee makes work with non-professionals artists (in Fat Blokes the four dancers had 'never done this kind of thing before'), exploring issues about personal experiences that have a common theme. His work is about encouraging 'safe spaces' for new work to be created – ensuring new voices get heard.
Before the show Scottee ran an afternoon session 'Making Stuff About Stuff' - a workshop designed to address the things that make us angry in the world. Aspiring actor and Bristol resident Maya went along to find out what a workshop with Scottee was like for a young person starting out.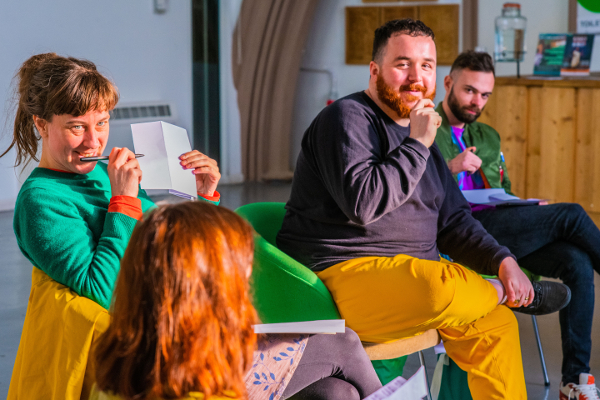 Scottee (second from LHS) leading 'Making Stuff About Stuff' photo @Alexa Ledecky
"I found out about this workshop and the shows taking place through Roseanna, the Assistant Producer at Trinity, and wanted to take part to develop my confidence and learn new skills.Before attending this workshop I had no expectations of what was going to happen or exactly what I was going to get out of it but I saw it as a new opportunity to get closer to where I want to be as a performer/actor.
"One thing I liked about the workshop was there was no pressure to share anything we didn't want to and there were no right or wrong answers."
When I arrived into the room, chairs were set out in a circle at one side of the room where we all sat. The workshop began and Scottee introduced himself and what he identifies as, and then everyone in the circle went round and introduced themselves, what they identify as and where they want to be. We were told that there should be no expectations set and we are not here to learn anything.
Scottee asked us to each take a piece of paper and pen. We folded the piece of paper into a leaflet style and on one side, those who wanted to, wrote down all their identities and how others see them. If we wanted to we could then discuss them and people got the opportunity to ask questions on any specific identities we were unsure of, had questions about or found interesting. I decided to share my list with the group.
We then went to another side of the paper and wrote all the things that made us angry. After mentioning the things that made us angry we then wrote down a rant about this particular thing which we hated. I wrote about racism and my rant was against those who are racist or who don't see racism as a serious issue. At first some of us struggled, finding it difficult to rant about something when we were not in an angry mood. For others it was an opportunity to get the issue off their chests. There was a mixture of very individual issues and those that affect lots of people. Scottee encouraged us to read over it and add more details into the rant.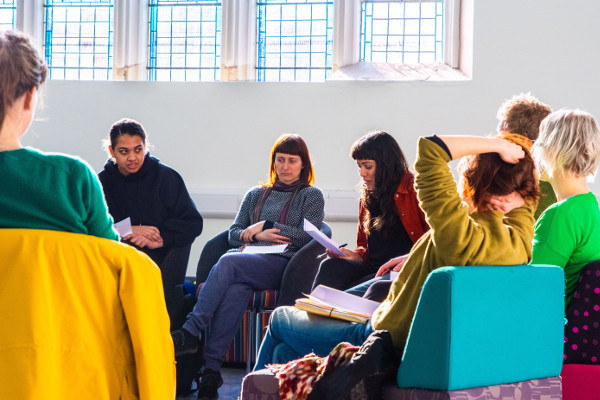 The group shared their 'rants' about the things that made them cross photo @Alexa Ledecky
We came to a final decision about whether we wanted to throw it away or keep it. If we threw it away, it was like we were done with the issue, and if we kept it then that may have meant there was still more to write, discuss or work on.
One thing I liked about the workshop was there was no pressure to share anything we didn't want to and there were no right or wrong answers. Everyone showed signs of being comfortable in the group through their body language and the conversations we had. People opened up about their identities and personal issues. It was a relaxed intimate environment without anyone being in your face.
This workshop helped me personally because I was able to think of how I identify myself and how others identify themselves - my confidence in having discussions and sharing things with others has definitely increased."
Scottee's workshop was a great opportunity for anyone working in performance, particularly socially driven work, to learn techniques around developing work.
Want to take part? We have more workshops coming up as part of our IGNiTE Spring season.
On 10 March, learn Bharatanatyam dance with Shane Shambhu ahead of his for dance/comedy show Confessions of a Cockney Temple Dancer. 16 March learn voguing and house styles at a pre show workshop then join the party crew for dance experience Rent Party and, finally on 23 March join dance artist Toussaint To Move for a workshop about his creative process ahead of his show about migration Windows of Displacement.
Making Stuff About Stuff was presented as part of IGNiTE - our programme of world-class, innovative theatre and dance about issues that matter to people now, starting conversations and sparking debate. IGNiTE is supported using public funding by Bristol City Council and by the National Lottery through Arts Council England