by rhiannon —
last modified

03/10/2016 02:25 PM
IGNiTE launches at Trinity Centre
by rhiannon —
last modified

03/10/2016 02:25 PM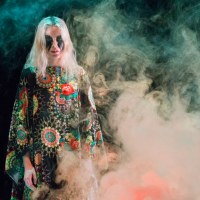 Holy Smoke coming to Trinity 14th October
Following the recent securing of Arts Council funding Trinity is set to hit the ground running with the launch of IGNiTE: a 12 month programme of performance, artist residencies and workshops. Ignite is the culmination of 5 years work, that has included the renovation of Fyfe Hall, the refining of the programme strategy in 2015 and the recent purchasing of flexible rake for seating, which will greatly improve sight lines for audience members.
Trinity has built a strong reputation for engagement across different communities and across different disciplines. It is a well-established music venue, and has further developed as a centre for learning and creative activity. With this is mind programme manager, Rhiannon Jones has specifically created a platform for programming that directly engages the local community and centre users, aptly named the Programming Forum.

She says of the project: "We have been busy working away with our partners, artists and resident communities to try and shape a project that is best fit for Trinity and that is responsive and reflective of our audiences. We have created an opportunity to bring edgy new work to the space and we are incredibly excited to launch five shows this autumn. But this is just the beginning, over the next year we hope to see our IGNiTE Programme evolve into something beyond our own vision by giving a platform new voices and finding ways to inspire new audiences to try something different.''
The Ignite Autumn season is set to launch on the 14th October with Holy Smoke (Ultimate Dancer) and 27, An Ecstatic Ritual of Life and Death (Peter McMaster) 15th October followed by Cathy by Cardboard Citizens 21st and 22nd October. November our Mighty Groove sets a New York Club scene on the 10th November and Jo Fong presents An Invitation, participatory dance performance 17th November.
IGNiTE : Performance for the People.
To find out more view our what's on page and download a copy of our Autumn Programme or follow Trinity on twitter @TrinityBristol #TrinityIgnite
Contact for images and more info: Rhiannon@3ca.org.uk Programme Manager / sarahb@3ca.org.uk Marketing Officer