by rhiannon —
last modified

01/02/2017 06:16 PM
Spring Season of Theatre Dance at Trinity Centre
by rhiannon —
last modified

01/02/2017 06:16 PM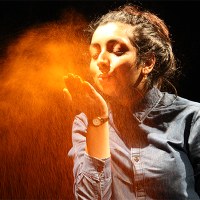 Afreena Islam - Daughters of the Curry Revolution
Spring Season of Theatre & Dance at Trinity Centre
As an iconic Arts Centre with forty years of music programming experience under their belt it should come as no surprise to you that the Trinity team are continuing to push boundaries with their IGNiTE programme of performance in 2017.
Ranging from the playful to the sometimes hard-to-swallow realities of life, the newly announced spring selection of programming is destine to challenge and excite audiences. Fergus Evans, Trinity's theatre and dance producer says that all the shows presented are 'a celebration of the spaces we make for ourselves when none of the boxes fit quite right.'
Mixing the exciting with the unexpected, the season's five shows set out to provoke conversations. In I-Dentity Rider Shafique explores being mixed race and what it is like when you are neither but also both. Liz Aggiss' giddy and sometimes sinister Slap and Tickle cheekily explores female sexuality and growing older. What you see is not always what you get in Alesandra Seutin's  C'eci n'est past Noire (This is not Black) - a journey through identity politics, Beyonce and, a few parlour games. Putting the Band Back Together is a playful story about why we give up on our dreams and how we find them again. Gather the round dinner table in Daughters of the Curry Revolution and find out what it means to be the daughter of a migrant.
At Trinity you're never just a member of the audience, and this carefully selected programming certainly reflects this. From picking up an instrument and joining Unfolding Theatre's house band to learning new ways to move with Alesandra Seutin (Vocab Dance Company). You can sign up to be a member of one of our test audiences and see work in development from our resident artists. Let us know what you think of the show you've seen or volunteer as a steward. The message is clear: Don't just come see a show. Take part. Speak up. Start something.
Alongside our regular programme of live music and community events, we present world-class, innovative artists whose work is about issues that matter to people now, starting conversations and sparking debate. IGNiTE is supported by funding from Arts Council England.
Further Info:
Tickets go on Sale 10am Friday 3rd Feb http://www.3ca.org.uk/ignite ​ ​
Slap and Tickle, Liz Aggis 18th March 7.30pm £10 / £8
Ceci n'est pas Noire (This is not Black), Alesandra Seutin I Vocab Dance Company 25th March, 7.30pm £10 / £8
Putting The Band Back Together, Unfolding Theatre 21st April, 7.30pm £10 / £8
I-Dentity, Rider Shafique 28th April, 7.30pm £10 / £8
Daughters of the Curry Revolution, Afreena Islam 5th/6th/7th May : 3pm / 5pm / 7pm £12 / £10