Take Part in What I Want To Be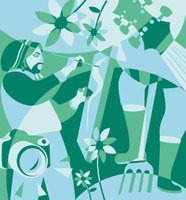 What I Want to Be, What I Want to See
Trinity is thinking about the future, & we want to hear from the people that matter - you.
From March 25 we are asking the people of Bristol to share their hopes and dreams for the future as part of What I Want To Be, What I Want To See. To inspire you, we have teamed up with our extended Trinity family of artists and community groups to create 11 days of free activities, content and workshops.
#GetInvolved
Online - follow us on our Social Media channels for scheduled activity and a daily TikTok challenge. Facebook, Twitter and Instagram
Sign up to a daily Assembly Monday - Friday by heading to the Facebook group here.
Sign up - click through below for our free workshop programme:
25 Mar - Writing Workshop With Vanessa Kisuule,
29 Mar - Intergenerational Dance Workshop,
30 Mar - Body Percussion Workshop,
Take part - join us on site for our Socially distanced community artwork, Mobilise, in Trinity Community Garden
If you live close to Trinity look out for our freepost leaflet, along with a free, specially created, print by Andy Council, coming through your letterbox. Please add your own responses and post them back to us.
If you live in Newtown or St Judes, keep your eyes open for the newest team member of Trinity - S.U.S.A.N.N the socially distanced robot - who will be out on the streets collecting your responses.
Want to share your dreams for the future? Click here to find out how.
The project is supported through funding from the Cultural Recovery Fund helping Trinity still #behereforculture