by sarah —
last modified

06/12/2021 02:56 PM
Team Trinity feature in Real Living Wage film
by sarah —
last modified

06/12/2021 02:56 PM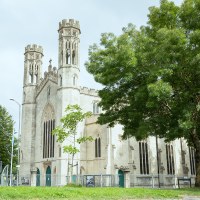 Trinity Community Arts
Trinity features in a film created by Bristol City Council, showcasing organisations in the city who are certified Real Living Wage Employers.
The film features Trinity team members Rhiannon Jones (Programme Director) and Jamell Ackford (Venue Manager) alongside Ben Openshaw and Harry Lewis who are both employed on a six-month internship as part of the DWP's Kickstart Scheme.
"Paying the Real Living Wage means we can support our workforce who, if we retain and nurture, will become future cultural decision-makers." Emma Harvey, CEO, Trinity Community Arts
Trinity became a Real Living Wage Employer in 2020, providing employees a fair, entry-level wage, calculated independently based on living costs.
Trinity believes that the best workforce is a diverse workforce and that by paying people a fair wage the opportunity to choose a career in the cultural sector is not limited to those who can afford to take on low paid internships.
Trinity joins over 65 Bristol employers, including Quirky Campers and Hargreaves Lansdown, as a certified Real Living Wage organisation, contributing to the nearly 2,500 employees who have seen an increase in their wages relevant to their day-to-day living costs. Find out more about Bristol City Council's commitment to becoming a Real Living Wage City here.