by sarahb —
last modified

28/07/2017 02:46 PM
Local independents show their support for Trinity
by sarahb —
last modified

28/07/2017 02:46 PM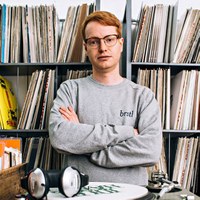 Local independent business' Idle Hands is showing its support for Trinity by stocking our merch in their shop.
Idle Hands has been a staple record shop for many in Bristol since Rooted Records shut down back in 2010. Chris and the crew at the shop have continued the much needed independent shop & record label, supporting many local artist as well as national. It's the place to go for new innovative music as well as the old classics.
Head to Idle Hands in St Pauls (32a City Road) to grab your self a limited edition dub plate of Adrian Utley, John Parish's 'Trinity Anthem', which was recorded live in the Trinity main hall mixed and mastered then cut on vinyl dubplate by Dubstudio. Alternatively pop into Trinity and purchase one of our Trinity mugs featuring a hand finished bespoke design or Andy Council's Fox (signed).
'Trinity was the first venue I ever visited and remains one of my favourites. Its focus on community sets it apart from so many other places. A real gem in Bristol's cultural crown" Chris from Idle Hands