by rhiannon —
last modified

23/08/2017 04:14 PM
Circus City comes to Trinity
by rhiannon —
last modified

23/08/2017 04:14 PM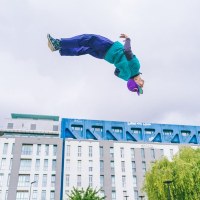 With an ambitious programme of shows, interactive events, workshops, talks and much more taking place at over 15 locations across Bristol, this year's festival is set to be a highlight of the Autumn calendar.
Circus City is the UK's fastest growing circus festival, attracting the very best contemporary circus from across the globe and showcasing Bristol's abundant homegrown talent. Circus City aims to put Bristol on the map as an international capital of contemporary circus.
This year, Trinity Centre is one of the key venues with Swing Circus staging a weekend extravaganza of swing dance featuring circus and dance shows, specialist choreographers and workshops to get your toes tapping 20 - 22 Oct
We are also super pleased to see the return of performer Grania Pickard to the Trinity Centre to tell the story of growing up with her brother Sean, who has severe learning disabilities, epilepsy and autism. Using physical theatre, aerial circus, audience interaction and storytelling she brings the world they share to life in her show He Ain't Heavy.

Last but not least we will be hosting Circus Shorts on Friday 27, a fantastic chance to see emerging work by a range of artists working with circus. An evening full of new ideas, different approaches and experimental skills served up fresh for your enjoyment.
There's something for everyone in the Circus City programme – music lovers, dancers, circus aficionados, theatre goers, party animals and families. The very nature of circus is to push the limits of what's possible in pursuit of the extraordinary – we encourage you to keep this spirit in mind and take a risk on something new.
Circus City co-director Kate Hartoch.
For more info about the rest of the festival check out Circus City's website here.
'It's impossible to hear swing music without a smile on your face or tapping your feet. We want to harness that playful energy to create uplifting, energetic circus and dance shows. Get those happy feet a-movin', and swing your booty in a hulahoop - guaranteed to leave a smile on your face and a spring on your step, it's the Swing Circus!'