by rhiannon —
last modified

06/04/2017 08:37 PM
Garden Party line up announced, Sunday 14 May
by rhiannon —
last modified

06/04/2017 08:37 PM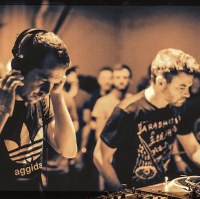 C. Dubkasm by Sarah Ginn Photography
Last year's event will be a hard one to top – as we were blessed with glorious sunshine all day and a lovely crowd that joined us from dawn to dusk. However, you'll be happy to hear that this year it is going to be even better [sadly we cannot guarantee the weather though, just the experience]. This year we've a delightful line up ranging from soul to- jaz to hip-hop to dub.
Headlining this year is Dubkasm (aka DJ Stryda & Digistep), who we have worked closely with over the years so it's pretty special to be programming them to play on the Garden Party stage. This is a headline slot filled with live instrumentation and lo-tech dubwise textures, underpinned by a strong roots vibe. It is going to be smashing.
Across the rest of the day we'll be filling the line up with a mix of artists from Bristol. We are starting the day with young people from our in house music course, everything from solo singer-song-writer to hip hop and beyond.
Sounds Of Harlowe bring live hip-hop/ soul to the line up this year and Sepia, will grace the Trinity stage for the first time with his forward thinking beats and rattling bass. Run Logan Run bring a sax and drums jazz outfit with added noise and expect jazzy wonky-pop from Toddler, fronted by Stevie-Jo Dooley. There's afrobeat, soundscapes and improvisation from instrumental group Tezeta or for those of you who like something a little different we've got minimal / hypnotist-un-rock from Motes.
We have a couple more acts to announce (exciting stuff) plus workshops and family activities to add to the bill. Full info coming soon.