by rhiannon —
last modified

20/04/2016 03:22 PM
Volunteer shout out: The ADP & Trinity Garden Party
by rhiannon —
last modified

20/04/2016 03:22 PM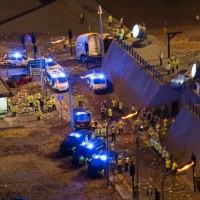 ADP Advertising The Neo Liberal Press
The Aftermath Dislocation Principle (ADP); a stand-out exhibition in Banksy's apocalyptic theme park Dismaland, will be coming to the Trinity Centre, rehoused in a specially converted shipping container.
Far from inciting another riot the exhibition creator, Jimmy Cauty, hopes the experience will be peaceful and thought-provoking , with the only real disturbance being the constant chatter of miniature police radios, dotted all over the exhibit.
The exhibition runs from Friday 29 April - to Sunday 8 May.
We are looking for a great team of volunteers to act as stewards during the opening night, (6pm - 10pm, Friday 29th April) and between 10am - 7pm daily until Saturday 7th May.
Trinity's annual Garden Party; taking place on Sunday 8th May, this year celebrates 40 years of Music.
We are looking for volunteers to steward and help out on the day assisting with crowd management, sign-posting, set up and pack down as well as helping out with workshops and the final day of the ADP Exhibition.
Running between 12pm - 9pm, this year's Garden Party line up includes live music from RSD (Smith & Mighty), The Most Trio ft Lil Rhys & Eva Lazarus, Lionpulse, Rattle, The Evil Usses, Bodywork DJ's, Yama Warashi, Luui, Many Monika as well as theatre performances from Tessa Bide and Bianca  Bartalot and more.
All volunteers will be be given an induction to the site and the role before starting. They will also receive refreshments and a free Trinity T-Shirt! Those assisting at the Garden Party will be provided with lunch.
To sign up or find out more please fill in our online volunteer application form or contact Ripley@3ca.org.uk / 0117 935 1200.