by rhiannon —
last modified

27/02/2015 02:51 PM
Dance Marathon comes to Bristol
by rhiannon —
last modified

27/02/2015 02:51 PM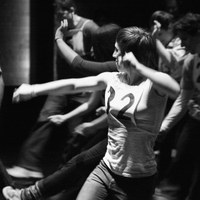 Dance Marathon is full action

On sale today as part of Mayfest 2015 is Dance Marathon by Award-winning Canadian theatre collective bluemouth inc, coming to Trinity from Tue 19-21 May.
Part participation-theatre, part dance contest, full out endurance contest, there's only one rule: you keep moving your feet. "To say that Dance Marathon breaks down the fourth wall is an understatement. It eliminates it." - Vancouver Sun, February 2010

Based on the the physically gruelling spectator sport from Depression-Era North America, Dance Marathon invites you to strut your stuff to the live band under the always watchful eyes of the judges. Buy your tickets now for what promises to be a unique experience both completely exhilarating and exhausting which has already been hailed with critical acclaim "★★★★★ - Dance Marathon is tremendous fun. Beg, borrow or steal a ticket for this original, life-affirming show. " For more info on Mayfest line up so far visit: Bristol Old Vic's website

If you want to get your dance fix this next month then check out Get Lucky, a triple bill from Julia Thorneycroft Dance or for more live performance see the SOLO Showcase, two evenings of new shows including four premiers from Alice Human, Ale Marzotto, Bella Fortune and Hannah Sullivan as well as an installation piece from Jo Hellier and if you want to roll on back to the 80's then skate on down to Bump Roller Disco.