by emma —
last modified

12/07/2019 09:06 AM
Damon Albarn
by emma —
last modified

12/07/2019 09:06 AM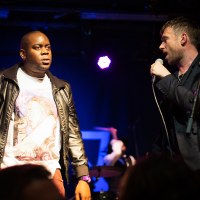 Damon Albarn performing Clint Eastwood with Bristol MC K*Ners
This gig really was something for the dedicated Damonite. Tickets sold out in 3 minutes as a fan club only event, and he did not disappoint his core following. Starting with two new tracks - Lonely Press Play and the album title Everyday Robots, Albarn then took his audience through a back catalogue tour of Blur, Gorrilaz, The Good, The Bad and The Queen, as well as the joyous Rock Juice and The Moon Song.
Damon Albarn is a master of smaller, independent, venues. His engaging style and warmth fills even the cosiest of venues, but you never get the feeling his ego or acoustic prowess will extend beyond the walls of this intimate, gothic, Bristol setting. This engagement did however extend into the consciousness of the audience that night, with everyone a riding high on a sense that the former Blur frontman will remember the evening as much as the punters as he blasted out Last Living Souls accompanied by his band, The Heavy Seas.
Next came the dedication of the Gorrilaz's number Slow Country to Massive Attack which harked back to not only the venues status as the birthplace of the Bristol Sound, but also to alluring atmosphere that has drawn in the aforementioned trip-hop artists and The Prodigy amongst others. Securing these acts is a result of Trinity's strong musical heritage, and the passion for the intimate, incognito, atmosphere that artists of the calibre of Damon Albarn obviously have.
His crowd pleasing encore involved an 8 strong gospel choir from East London, who supported 2 new songs; Mr Tembo and Heavy Seas of Love. But what got the crowd romping and jumping was a version of Gorillaz's Clint Eastwood that featured Bristol-based paramedic K*Ners, who when he is not rescuing the sick, rescued the hip-hop sections of the song due to a last minute drop out of Damon's preferred Snoop Dogg wannabe.
It was refreshing to see Albarn finish on the soporifically sombre - This is a Low, which was both the low note, and the high point, of this particular performance.
Review by John Barker, Trinity Trustee
Image by www.lifelivephotography.com