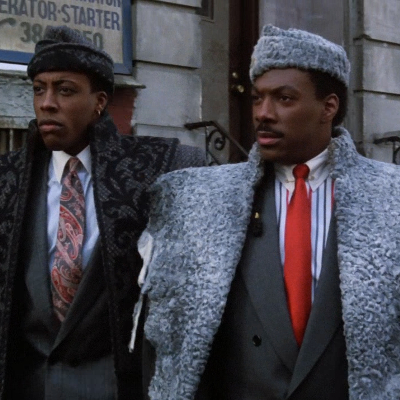 I'm Gonna Git You Sucka + Coming to America
Black Star Season House Party: Comedy Double Bill
Black Star Season House Party: Comedy Double Bill
As part of Black Star, a UK-wide celebration of the range, versatility and power of black actors, programming collective Come The Revolution invites you to an evening of film and entertainment celebrating Black comedy. Coming to America (Dir: John Landis 1988), Eddie Murphy's shining moment and I'm Gonna Git You Sucka, the directorial debut by trailblazer Keenen Ivory Wayans featuring a young Chris Rock.
Coming to America
Prince Akeem (Eddie Murphy) is the prince of a wealthy African country and wants for nothing, except a wife who will love him in spite of his title. To escape an arranged marriage, Akeem flees to America accompanied by his sidekick, Semmi (Arsenio Hall), to find his queen. Disguised as a foreign student working in fast food, he romances Lisa (Shari Headley), but struggles with revealing his true identity to her and his marital intentions to his king father (James Earl Jones).
I'm Gonna Git you Sucka
Jack Spade (Keenen Ivory Wayans) comes home to the ghetto and finds his brother dead from a gold chain overdose. With the help of his hero, John Slade (Bernie Casey), and a team of washed-up crime fighters, Spade declares vengeance on Mr. Big (John Vernon), the white crime leader responsible for selling gold chains on the streets. But Spade realizes that he must take matters into his own hands to finish the job in this zany spoof of 1970s blaxploitation films.
Live Comedy & Big Tunes
Joining the House Party live
Kat Boyce & Nina Benjamin
Stand up comedian, MC, presenter, chreographer, & host Kat is quick, quirky and an all-round entertainer with enormous appeal.  He is a regular at the Sunday Comedy Club at the Hideaway in Streatham and is Artistic Director for Real Deal Comedy Tour. A regular presenter on MTV Base he has made comic & serious shows in Trinidad, Ghana and Jamaica & appeared on "The Lick" (with Trevor Nelson) and the "Request Show" Film and television credits include "Waterland", "Street Wise", "Up Late With Gina Yashere" (BBC2), "Nights Out At The Empire" (C4), "The Richard Blackwood Show" (C4) and "Kerching" (CBBC).
Ninia Benjamin 'The Comedy Assassin' The Voice Newspaper
Although she doesn't carry a gun, Ninia's wit and cheeky persona is sure to kill any daring heckler's attempts stone dead. Armed with a big smile, Ninia's warmth on stage, and off, lets her get away with murder.
Ninai's experience straddles the decades. As one half of the Comedy duo M&N society she has supported the critically accliamed The Real Mckoy show, and, as a solo performer, supported BBC2's Blouse & Skirt performances in the Hackney Empir. She has been a celebrity guest for "Battle of the Sexes" and in the well-known New Act of the Year competition.
Stage & TV credits include "Malcolm X" and "A Yorkshire Tragedy" (The Royal Court Theatre). Ninia has played the lead role in the record-breaking run of Waiting to Inhale" at the Theatre Royal and, more recently, "Woman on Top" at the Hackney Empire.
TV appearances include Michael Barrymore's " My Kind of People" BBC2''s "Black Briton" and "The Day The Changed My Life".

DJ on the night Bristol's Finest Nytro, Playing the most bubblicious 90's Jams.

'Bristol we are in for a treat'

Presented by Come The Revolution in partnership with Watershed and Ujima Radio as part of #BFIBlackStar