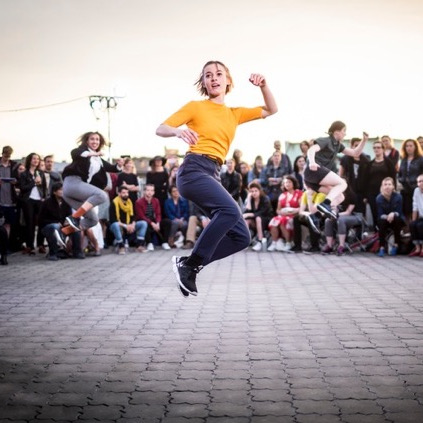 Gather Up
Calling professional dancers in Bristol - this weekly class will be a place to gather, to take care of and expand dance practices
The nature of working as an independent dancer or dance-maker often entails being here and there and everywhere, fleeting between projects and places. The hope is for this regular weekly morning class to be a home of sorts for professional dancers from Bristol and for those visiting; providing a place to gather, to take care of and expand their dance practice.
A group of Bristol-based dance artists will take it in turn to lead morning class, each drawing on their own experiences of dance and of other somatic and body-mind practices.
Whether through improvisation or the learning of set material these classes welcome each mover to explore and bring their attention to their own sense of being and moving. Come along to interrogate and deepen your dancing craft.
Level
Experienced movement practitioners.
Time
The space will be open from 9.45am, class time is 10-11.30am, with time to stretch and meet 11.30-12noon.
Dates
16th & 23rd Sept - Anna Kaszuba
30th Sept (MOVED TO SOUTHBANK CLUB, SOUTHVILLE)
7th Oct - Laura Dannequin
14th & 21st Oct - Laila Diallo
Location
The class will hop from venue to venue across Bristol. We are at Trinity Centre until 21st October and will continue at Bristol Old Vic until Winter break. Double check location before travelling!
Price
Drop-in £5 per class cash only or £40 for a 10-class card (valid until 1st April 2020).
To buy a 10-class card email: info.gatherup@gmail.com.
Note that the classes will take place across a number of venues between now and July 2020.
Details
Admittance is on a first come, first served basis.
Each class has 3 bookable places (please email info.gatherup@gmail.com) for anyone travelling from outside Bristol or with childcare or access needs who may not be able to arrive on time.
Please get in touch if you have any particular access requirements.
Class will not run during half term, Winter and Summer breaks alongside school calendar.
Credit: Image by Vojtek Brtnicky