Heart & Soul Celebration
Trinity's end of year celebration and AGM
Trinity's annual end of year AGM celebration event featuring the images, archives and stories collected throughout the Heart & Soul heritage project and a celebration of the end of the last planned major capital works to the conservation of the building.
This year, we will host the preview of We Are Bristol's first project THE DEMOCRATIC SET produced by our members Up Our Street and In Between Time.
THE DEMOCRATIC SET has been created by the people of Bristol in collaboration with the world-leading theatre company Back to Back Theatre (Australia) and In Between Time in partnership with Up Our Street, Knowle West Media Centre, Ambition Lawrence Weston & UWE.
Heart & Soul running order:
6:00 pm Trinity Open Music from Rob Hall, Trinity Volunteer, in the Main Hall
6:30 pm Selection of light snacks served in main hall
6:45 pm - 6:50pm Opening of event with welcoming speech from Dr Edson Burton
6:50 pm – 7:00 pm Speeches from: Wilbert Smith (Heritage Lottery Fund, Committee Member for the South West), Stacey Yelland (Director, Up Our Street) and Vashti Waite  (Joint Executive Director of In between Time)
7:00 pm – 7:10 pm Screening of The Democratic Set.
7:10 pm Tom Marshman, Artist and Trinity Board Member creatively responds to Trinity's Free Speech Policy.
7:15 pm AGM begins Chair welcomes, Rhiannon Jones, Programme Manager Trinity, to present Trinity's Arts Programme
8:05 pm Close of meeting Meeting with Emma Harvey, Centre Director
8:15 pm Music from Rob Hall, Trinity Volunteer
9:00 pm Curfew
This is a free event but we suggest people reserve their place online,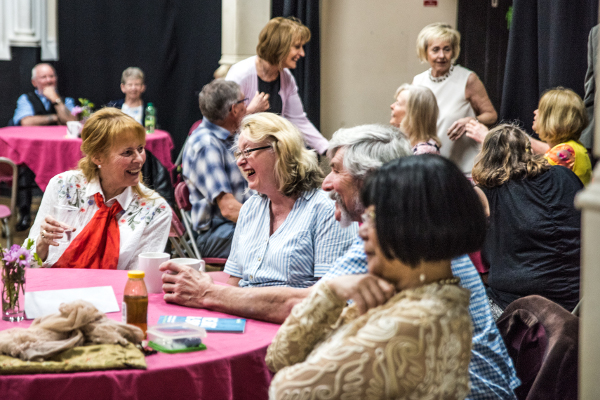 Memory sharing and dancing was one of the activities offered this year as part of our heritage project @Khali Ackford
About THE DEMOCRATIC SET
THE DEMOCRATIC SET marks the launch of a three-year programme called We Are Bristol, a new project that's all about bringing arts events to neighbourhoods around Bristol and supporting communities to share what matters to them and the wider city funded by Paul Hamlyn Foundation and Bristol City Council. For more information email contact@upourstreet.org.uk