by emma —
last modified

01/07/2020 11:59 AM
You said, we did!
by emma —
last modified

01/07/2020 11:59 AM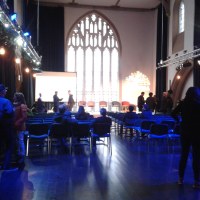 Our upstairs hall, renovated thanks to YOUR feedback
In 2012, 2014 & 2016 we carried out community consultation into our activities and facilities. Below are some of the key suggestions and feedback that we received from you that we've acted on:
- "Bike racks" We fitted bike racks across the site and a bike shelter
- "I don't know what goes on there" We now distribute a regular e-newsletter and an annual newsletter to 15,000 local households and promote our activities on neighbourhood noticeboards
- "Children's play area" We installed an exciting play-scape inspired by nature and built to promote creative and interactive play
- "The entrance is so confusing I nearly walked out…" We redeveloped the Centre to improve layout for visitors, including a new daytime entrance and Reception
- "Heating" We have fitted a new boiler and underfloor heating for the upstairs hall spaces
- "Upstairs has limited facilities" We redeveloped the upstairs hall to create a large hall for theatre, dance and performance, weddings and parties
- "Doesn't really serve the community...there's no real community centric activities" Check out our Trinity Community Initiative and  IGNiTE Project for ways to get involved in shaping our programme
- "It looks boarded up" Check out our 2017 Renovation project, to repair windows, roof and stonework and make the heritage site a better place for visitors
We value your suggestions and they DO make a difference so please take the time to give your feedback.