by emma —
last modified

31/03/2015 04:37 PM
SWhoop
by emma —
last modified

31/03/2015 04:37 PM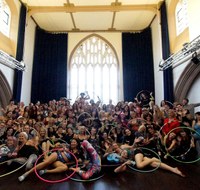 People from around the world converging at Trinity for a mass-hooping extravaganza!
We have run our annual hooping event, SWhoop at The Trinity Centre for several years and have enjoyed a great relationship with the staff here. Our work engages the local hoop community as well as the best of talent across the world. It is important to us to show-off our wonderful city in a strong, grassroots ethical organisation. Our Show case event at the end of the weekend features a demonstration of another Trinity community partner, Bristol Samba and is a great success each time. 

We have enjoyed excellent relationships with the staff here, whose flexibility and professional conduct have helped us sustain a strong continuity of delivery.
We have appreciated over the years the terrific improvements made to the infrastructure and to the increased services to the community. The grand opening of the first floor dance/theatre space was a vibrant event and drew a wide cross section of the community, including the Mayor.

We have great pleasure in supporting the work of Trinity.
Drs Stephen Robins & Emma Kerr, SWhoop