by sarah —
last modified

14/09/2021 08:38 AM
Making Tracks youth-led steering group launch
by sarah —
last modified

14/09/2021 08:38 AM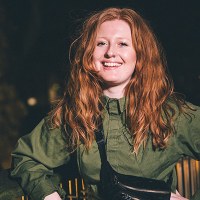 Making Tracks is a life-changing music making project for young people, aged 16-25, delivered by Trinity in partnership with ACE and Basement.
The first Steering Group meeting was held on Thursday 15th October. The Steering Group gives Making Tracks participants a chance to share their opinions to help shape the programme and opportunities to connect with others on the programme.
The meeting was led by Steering Group Producer, Amber Watsonn, who is on a work placement through BE IT - a radical leadership programme run by Rising Arts Agency.
Amber is dedicated to improving representation in thearts sector and is bringing her passion for empowering and championing young people's voices into the steering group.
With the help of project intern, Thomas Meadley, Amber invited four young people to take part in this meeting that aimed to be an accessible space and allow for all voices to be heard.
The first part of the session focused on understanding the purpose and aims of the steering group. The session was briefly joined by Dave Thomas, Trinity's Youth Activities Manager. His contagious enthusiasm for Making Tracks and Youth Music helped spark young people to share their love for the programme.
Young people shared their thoughts on how the Making Tracks project is accessible to them; how it caters to everyone no matter their skill, home life or musical interests. The group shared how much taking part in the project helps support mental health and confidence building. They also commented on the supportive staff that show how much they want to be there and help in any way they can.
Amber then supported the group to share how they may want to shape the project in the future. This included:
- an online forum for young people to network, share their music, and see news and project updates
- more studio access to record music
- more online resources
- how they can help support the project
The meeting ended, as all good meetings should do, with pizza and an opportunity to discuss the next meeting's agenda.
Want to get Involved?
The steering group is always open to new members. Please email amber@trinitybristol.org.uk if you would like more information or have any questions.
Making Tracks is supported by Youth Music and using public funding from the National Lottery through Arts Council England, as well as support from match funders.