by emma —
last modified

16/12/2016 04:11 PM
DJ Derek legacy fund
by emma —
last modified

16/12/2016 04:11 PM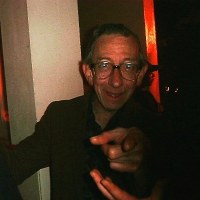 DJ Derek at the Trinity Centre
Sweet Memory Sounds - set up by the family and friends of Derek Serpell-Morris in memory of Bristol's legendary reggae DJ - have generously supported Trinity Community Arts, Old Market, with a donation of £2,000 towards the charity's youth music programme.
Following a fundraising event hosted at The Farm, St Werburghs, there was an amazing response as people pledged their support in DJ Derek's memory.
As part of the recent BBC 6 Music Festival, the event featured exclusive screening extracts of Ring The Alarm: The DJ Derek Story, which saw Derek being honoured by Massive Attack's Daddy G and BBC presenter Don Letts.
As a prominent feature of Bristol's music scene for over 50 years, Derek's family were keen to ensure that, as part of his legacy, they could help to realise the musical aspirations of young people in the city.
Derek's great-niece, Jennifer Griffiths - who was pivotal in leading the eight-month search for the missing DJ - said; "We are so happy to be part of the Trinity and to carry Derek's legacy on, this is what he would of wanted so it's great to be able to get involved and help out a great cause."
A friend of Derek's family, local artist Mat Kauhanen, helped set up Sweet Memory Sounds to support fundraising efforts to create a huge mural of the local legend on a wall in Montpelier, near The Star & Garter, where Derek cut his teeth as a DJ. The mural - planned to help raise the profile of the search for him - will now be as a commemorative work and will be created in July this year to mark one year on from when Derek initially went missing.
The additional funds raised through the tireless efforts of Sweet Memory Sounds will help to support Trinity's work with disengaged young people, including young offenders and those with other health and behavioural issues.
The donation is part of a wider programme of support from the memorial charity, which will also see an ale being sold in his honour, with a proportion of the proceeds going towards the local arts charity to continue their work with young people.
Trinity has been working with young people from challenging circumstances to help them to make music since 2005. They work with over 60 young people each year, helping them to find positive ways to express themselves, gain confidence and develop their musical ability.
Recently, this has seen the charity provide a successful series of exclusive 'Industry Insights' sessions with artists including Devin Townsend, Jack Garratt and Nitin Sawnhney.
Emma Harvey, Centre Manager from Trinity said; "To receive a donation like this is just amazing, not least because it's connected with Derek's memory. Derek was a favourite at Trinity back in the day and everyone has a memory of seeing him perform. We're glad to work with his family to realise a lasting legacy in the city that he would be proud of."
There will be a press event held at the Trinity Centre, 10am Friday 10 June to find out more about the the planned DJ Derek mural, Sweet Memory Sounds and their work with the Trinity youth music programme. To pledge your support for DJ Derek mural visit GoFundMe: https://www.gofundme.com/ndfqcqek
Click here to read more about Trinity's youth music programme, the work supported by Sweet Memory Sounds and the stories of the young people who benefit. Read more about how Sweet Memory Sounds are supporting Trinity here.
Trinity are setting up a memorial page here on our website. Please get in touch with edson@3ca.org.uk if you have any stories or images you would like to share with us.